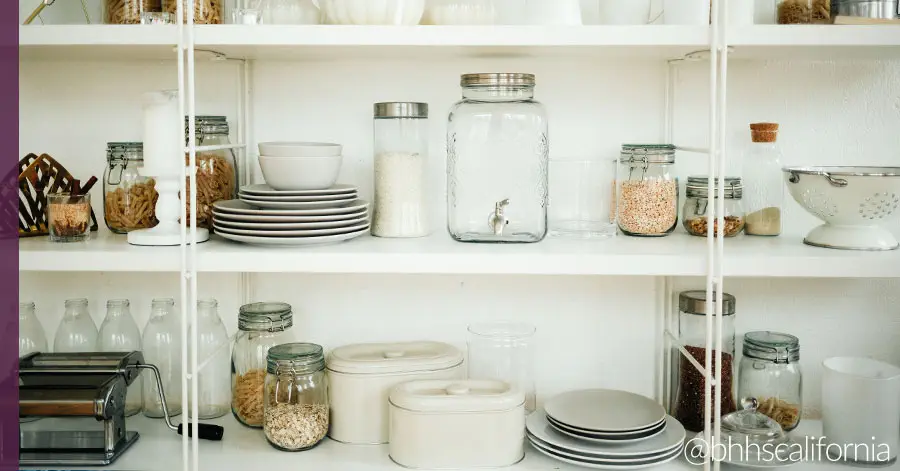 Your kitchen is one of the most used spaces in your home, so you should create a space you actually enjoy being in. A good setup can make or break your cooking space, and even the meals you prepare. When it comes to actually rearranging and organizing a kitchen, it can start to feel extremely overwhelming.
Whether you're trying to figure out the best way to store spices or are exploring different ways to style your counters, we've got a few kitchen organization tips and tricks that will help you solve any issue in your kitchen.
Rethink your fridge
It's never not a good idea to clean out your fridge, but make time to go through and check expiration dates and wipe down everything on a regular basis. Produce and any leafy greens usually go bad first, so adjust temperature as needed if you notice any premature wilting. Use clear bins to place similar items together: drinks, like juices, cans of soda, or sparkling water, condiments and dressings, snack items or grab-and-go meals, etc. If you'd like, label each container with a sticker.
Fix up your storage situation
Get even more use of your kitchen cabinets by thinking creatively when arranging your dishes. Start this process by pulling out all of your dishes to see what you have to work with, then arrange by most frequently used items. These should be placed in cabinets or on shelves so they're both easy to reach and see. Special occasion items, such as cake stands, carafes, and small appliances can be placed in higher shelves or in storage.
Neatly organize your plastic containers
Something a lot of people struggle with when it comes to kitchen organization: food container storage. If your food container cabinets are out of control, consider throwing out any of them that are stained, cracked, or just don't seal properly. If you want to go the extra mile, buy specialty dividers to separate your lids and containers by size and quickly tidy up the space.
Consider replacing old, plastic containers with a matching glassware set, so all pieces are similar in shape and size. This makes it easy to store and identify pairs.
Insert a rolling rack
Super tight on space? A rolling cart might be just what you need. Aside from being small and thin in size, a rolling cart can move anywhere you need it to go in your kitchen. Find a corner for it to rest in, such as against the side of your fridge or stove, and enjoy the extra room it provides for anything that you can't fit in your drawers and/or pantry.
If you have the space for it, a large stationary rack or shelving unit is also a great option that will not only add storage options, but a bit of character, too.
Declutter utensil drawers
This is probably a very obvious choice, but it's true: no one like a crowded utensil drawer. Invest in a modular drawer organizer, or purchase each compartment separate depending on what you like/need, to create the perfect solution for your space. If you find that your utensil drawers are constantly overflowing or hard to keep organized, you may need to get rid of excess cutlery. Explore alternate storage options for some of the larger items, like a storage basket on your counter.
Create a kid's space
If you have a spare cabinet, shelf, or drawer, designate a spot for lunchboxes and everything that goes along with them. Keeping these items together makes it easier when getting ready in the morning, and the kids will always know where to stash their supplies. Encourage them to help you keep their corner nice and tidy, too.
Conquer the pantry
Go to your pantry and take a long moment to examine it top to bottom. Begin the process by purging any expired foods, then go through all canned goods and any extras you can set aside to donate.
Next, consider how you store and organize your pantry items. Depending on the space you're working with, you may find it useful to use gadgets such as an over-the-door organizer or a lazy Susan for all of your spices. Group remaining foods by category, color, or even alphabetically.
Clear bins or wire baskets?
A popular trend in kitchen organization right now is storing your pantry items in clear bins. Now that you've gone through the entire pantry, place your staple items in see-through and/or pull-out containers. This will help you know what you have and where, which is useful when restocking or grabbing in a hurry.
If you don't like the look of all the plastic containers, wire baskets are a great alternative. Wire baskets are also a good choice when it comes down to it because of their grid-like designs, making it easier to store snacks, or even some root vegetables.
Hang it all
If you're short on cabinet or counter space, take advantage of your wall space by hanging cooking utensils, pots and pans, or even mugs. You can choose to arrange them throughout an all-in-one shelving unit, hooks, or perhaps an under-the-shelf solution. If pots and pans are your biggest problem, free up some room by purchasing an overhead hanging rack and add some French country charm!
Put away large or bulky appliances
Free up some very limited counter space by storing bigger appliances such as toasters, blenders and kettles in deep drawers or pull-out shelves. The key here is to arrange them in a vertical position so you can quickly select the right tool for the job. If you don't have deep drawers in your kitchen, consider adding a shelf or storage cabinet, or take apart larger appliances so they fit better in smaller spaces.
Find a kitchen you love
Even with the best kitchen organization tips, sometimes the best move is to find a brand-new kitchen that satisfies all your needs. Get in touch with a real estate agent near you to discuss your kitchen and homeownership goals today!
Source: Apartment Therapy
Like what you see here? Sign up for more! Our free e-newsletter informs you of listings in your community, insider real estate tips, the latest in home trends, and more.