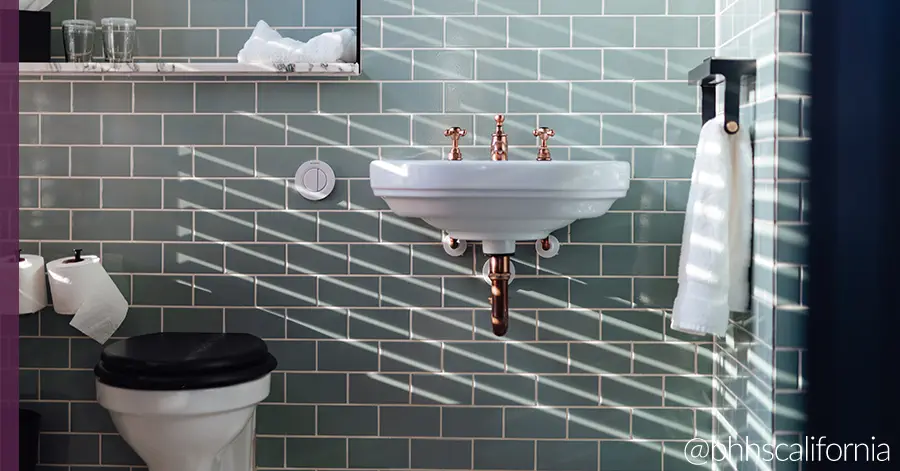 Going into a new year with a clean slate is something we all strive for: new routines, new mindsets, and everything in-between.
Something we may not realize is that gradual change is often the key to success and will have a better end result than trying to make changes all at once. While also true for personal habits, we think this is a great way to approach your home, too!
Updating small, everyday things we use but don't typically focus on can make a huge impact on our homes. Giving our living spaces a refresh can not only help you feel more organized in general, but it can feel less daunting when you do one project at a time. Switching things up definitely doesn't have to break the bank, so here are some month-by-month home improvement ideas to help you give your home the love it needs, one step at a time.
Which of these will you be trying out this year?
January: Organize your pantry and refrigerator
This one may be the most obvious to start with, but here are some good suggestions on how to make your pantry and fridge feel organized and sparkling clean:
Remove expired foods and items you just want to get rid of. If items are unopened and are still good, donate them to your local shelter.
Wash all containers and drawers, then wipe down shelves, doors, and knobs/handles.
Buy organizational bins to store both refrigerated and dry goods by category.
Organize your pantry with your most used items towards the front and at eye-level; same with your fridge.
Reconsider your daily staples and snack options. Consider buying products that will make your weekdays easier with less time spent prepping and less waste created.
Don't forget to check out our full list of easy kitchen organization tips!
February: Update your bathroom(s)
Give one of the most used rooms in your house a nice refresh by painting the walls, installing new cabinets or updating hardware, replacing faucets and fixtures, upgrading accents such as towel bars, toilet paper holders, door knobs, and electrical outlet plates. Take it to the next level by installing modern lighting fixtures to match and add pops of colors by bringing in new towels, soaps, and candles.
March: Liven up a room with paint
March is a good month to give any or all rooms in your home a paint job, because it's finally warm enough to open windows for ventilation and speed up the drying process. Prep is most important part of the paint job, so just follow this guide:
Wash walls with your preferred method of cleaning (we recommend a low-phosphate household cleaner, or anything good for the environment and without all the toxins).
Repair any cracks or holes.
Remove any hardware you can; tape off anything you can't.
Move furniture out of room or towards the center of the room; cover what you can't with tarps or plastic.
Use stain-blocking primer.
April: Wash all windows
Did you know that your home's windows should be washed at least twice per year, spring and fall? It's simple, but can be a tedious process if you have a lot of windows. Here are some tips:
Dust and clean all windows from the inside and hose down the outsides to begin.
Use a sponge to wash the glass with warm water and some dishwashing liquid.
Use lint-free cloths, crumpled newspapers, or clean coffee filters to wipe the panes down; wipe edges and all windowsills with a clean towel.
Don't forget to clean your window screens, too.
Short on time, but have some extra budget? Hire a local business to take this task off your hands.
May: Prep your outdoor spaces
Summer is right around the corner and it's time to get your outdoor space ready. Follow these steps:
If you have a deck or a large patio space, clean all surfaces, assess and repair damages, and stain wooden materials as needed.
Update or clean your furniture and set up functional spaces for lounging, dining, and grilling.
If you haven't replaced the cushions on your outdoor couches in a year or so, now is the time to do it. Make sure you have a storage solution to protect them from rain and dew.
Add a relaxing fountain for soothing background noise and to drown out sounds of neighbors or nearby roads.
Hang some string lights, invest in some spotlights for your pathways, and consider torches, a fire pit, or lanterns for added light and warmth.
Here are a few more budget-friendly ideas to spruce up your outdoor space.
June: Install a backsplash
Give your kitchen or bathroom a stylish focal point by installing a backsplash to show off a bit of your character. Flip through magazines or go online for inspiration and then do the following:
Figure out the space you want your backsplash to cover, measure dimensions, and go shopping for tile.
Consider rectangular subway tiles to make your space feel larger or a colorful mosaic pattern to make it pop.
Choose a color that goes well with the more permanent fixtures in that same space, like the cabinets, countertops, and floor.
Once you decide on a final design, always buy more tile than you think you may need. You can usually return what's left and get a refund, but check to be sure before you purchase.
Decide if you will be the one taking on the project or if you'll be hiring a professional.
A good tip: the more complex the project, the better it is to bring in an expert. In many home improvement cases, it is best to spend a little more on labor rather than on the time and expenses that repairs would require.
July: Revamp your garage
Depending on who uses it most, your garage needs a lot of care and organization between storing seasonal or large items, fixing household items, or simply parking your vehicles.
Get started by setting priorities: will your garage be used for your cars only, or will it double as storage? Do you have enough tools to consider installing a workbench, or perhaps would you prefer to create a space for exercise? Once you narrow down your end goal it will be easier to know what to do.
Next, sort through everything that is currently inside your garage and decide what to keep, donate, or throw out. Categorize what you left behind into main interests, like gardening tools, workout gear, business inventory, craft supplies, etc., and keep it organized using labeled bins or shelving.
August: Painting the exterior
This month is perfect to get out there and refresh your home's exterior with new paint, whether it be the entire house or parts of it. A few good tips to get the job done efficiently and quickly:
Give the exterior a good cleaning to remove dirt and loose paint.
Remove peeling paint with a paint scraper, wire brush, or putty knife for a seamless, fresh layer.
Replace any rotten wood.
Fill cracks with high-quality paintable caulk and let it dry as suggested.
Once the paint is dry, consider washing your windows inside and out again so your home looks fresh and sparkling clean.
September: Get your home winter-ready
This month is a busy one, so it's best to get started quickly. Getting ready for cold weather needs to happen at just the right time of year, when you're done using the air conditioner and before it gets too cold to go without heat in your home.
Some quick tips for your winter-ready home to-do list include:
Always begin by inspecting your furnace and replacing dirty filters.
Use caulk, spray foam, and/or weather stripping to plug any leaks around the house. Inspect windows, doors, holes in the walls, etc.
Clean gutters and downspouts.
Double check that your chimney and venting systems are working properly before lighting any fires
October: Add a programmable thermostat
If your home permits, switch to a digital thermostat model that automatically changes the indoor temperature. Smart-home technology can handle a number of tasks, including cooling and humidifying. Not only does it help you control your home, it can also save you money on your annual bill. You can set certain temperatures for when you are sleeping, awake, or away from home and avoid using unnecessary energy.
If you're looking for simple option, try a system where you can control the temperatures on separate floors if you don't live in a single-level home, in order to avoid higher costs.
November: Add some character
Ready to show off that decorating personality? As the season changes and days are cooler and shorter, this is a great time to add some joy to your home. New crown molding, or painting existing crown molding, is one of the quickest and most inexpensive ways to add character to any room.
Here are just some ideas to get you started:
Paint all of the trim throughout your entire home the same color to create a unified look.
Pick a room and paint all of the trim the same color, but emphasize an element, such as a stair railing or fireplace.
Add crown molding in the living room or a formal dining room for an instant elegant, high-end look.
Other options that will make your home feel more luxurious without breaking the bank include:
Swapping out door knobs and handles on all doors.
Updating the light switch and electrical plates.
Installing modern light fixtures or ceiling fans.
Painting the trim on your windows and doors.
December: Clean out your closets
It's time to get rid of clutter and organize that closet for the new year! Tackle your closet first and ask other members of your household to do the same by sorting items into four categories: keep, donate, recycle or sell, and toss. Only keep clothing and accessories that fit and have been worn in the last year. Styles that are timeless, like plain tops and denim, should be saved, as should anything that is of sentimental value.
Limited on space in your closet? Consider dividing and storing your wardrobe by the season, keeping your spring/summer and fall/winter clothes on rotation.
Sources: This Old House, HGTV, Pinterest, Better Homes & Gardens, Homes.com
Like what you see here? Sign up for more! Our free e-newsletter informs you of listings in your community, insider real estate tips, the latest in home trends, and more.