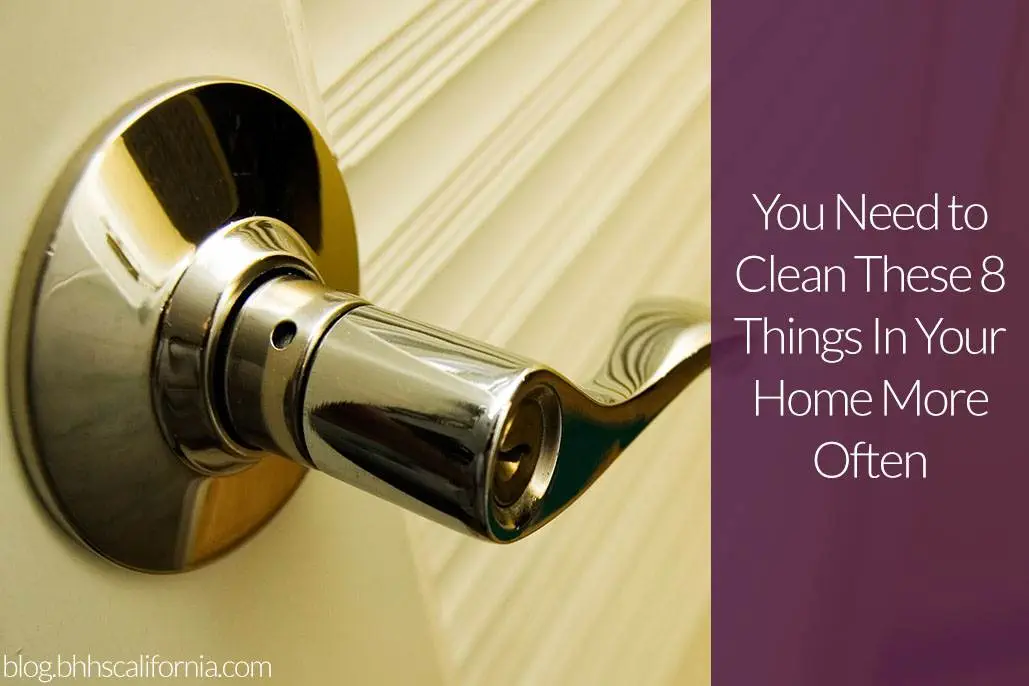 We know that it can be tough to maintain your home, thanks to work, your kids' schedules, and your social lives. No matter what you have going on outside of your home, though, it is important to maintain the inside of your home, so you and your loved ones can enjoy a happy, healthy life.
Since nobody is perfect, there are bound to be a few things that get overlooked when you are cleaning and maintaining your home. Here are eight things in your home that you probably don't clean as often as your should, and how often you should clean them.
To stay on top of these tasks, consider creating a weekly, monthly, and yearly cleaning calendar.
Trash cans
Trash cans are often home to wet, sticky, and stinky objects, so of course they need to be cleaned every now and then. To clean one, rinse it out using a hose outside or in your bathtub (make sure you also sanitize the bathtub when you're done). After you've rinsed out the trash can, spray it with disinfectant and wipe clean with a paper towel or cloth towel. Always use a trash bag to line your can to prevent having to clean out your trash cans often. We recommend cleaning your trash can about once every three months. Each time you take out the trash, inspect the inside of the can to make sure nothing spilled or smells, and clean as needed.
Clean every 3 months
---
Bed pillows
You use your pillow every night, which means it comes in direct contact with your face every night. Dirt, oil, skin cells, and dust mites can collect inside your pillow, so washing it routinely can have serious health and allergen benefits. Every three months, you can wash your down alternative pillows in a washing machine, or take your down feather pillows to the dry cleaner.
Clean every 3 months
---
Refrigerator coils
When was the last time you cleaned your refrigerator coils? If it was over six months ago, you might want to consider cleaning them again. This 20- to-30-minute task may not seem very fun, but it can save you money by ensuring that your refrigerator runs smoothly and doesn't ruin your floors. You can clean your refrigerator coils in four easy steps.
Clean twice a year
---
Computer keyboard
Using a damp, soft cloth, a dampened cotton swab, or dry toothbrush, and a can of compressed air, you can easily clean your computer keyboard once or twice a month. Cleaning it regularly will prevent you from having a grimy keyboard ever again!
Clean 1-2 times a month
---
Oven mitts and potholders
Oven mitts and potholders come in close contact with foods and serving dishes, so you'll want them to be clean and germ-free. We suggest having at least two sets of each, and throwing one of them in the wash every time you do a load of dish towels. This way you'll always have a set on hand when you need them!
Clean 1-2 times a month
---
Doorknobs and light switches
Think about it: You touch your doorknobs and light switches multiple times a day: when you're walking into the bathroom first thing in the morning, when you're walking into the kitchen to wash your hands, and when you're coming home from a long day at work. You touch these things when your hands are in all different states of cleanliness, and the oil in your hands builds up over time. To prevent the spread of germs, especially during flu season, be sure to make cleaning your doorknobs and light switches a part of your normal cleaning routine. Pay special attention to them when someone in your home is sick.
Also clean: Your TV remote, the handle on your toilet, and your appliance handles.
Clean 1-2 times a month
---
Kitchen sink
Something that is constantly in contact with soap and water probably doesn't need to be cleaned all that often, right? Wrong. Your sink, which is always wet and full of food particles, is a breeding ground for germs and bacteria. At minimum, you should be cleaning your kitchen sink twice a week, but you should aim to clean it every day. The sink is where you wash your hands before handling food, dishes you are going to eat off of, and food your family is going to consume. You can disinfect your sink by spraying it with rubbing alcohol and water.
Clean daily
---
House phones and cellphones
Your phone is something you touch with your hands and with your face, and you most likely handle them multiple times a day. These are items you're going to want to clean as often as possible, because we handle them at various times during the day, and who knows what germs we are transferring from our hands to our phones to our face? Use antiseptic alcohol wipes to disinfect your phone without damaging it.
Clean weekly
Like what you see here? Sign up for more! Our free e-newsletter informs you of listings in your community, insider real estate tips, the latest in home trends, and more.