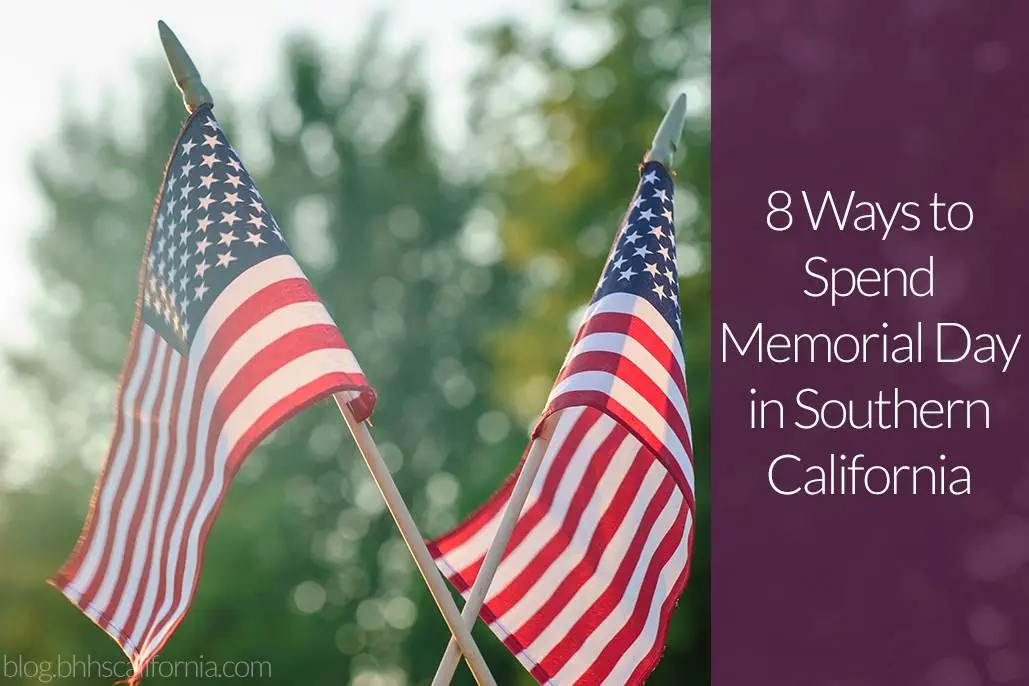 Memorial Day is a federal holiday when we honor the men and women who died serving our country, and the freedom we enjoy thanks to their sacrifice. Living in beautiful Southern California, we have a lot to be grateful for. This Memorial Day, remember how we came to live in such a beautiful state in a great country, and enjoy the day off!
Here are our top eight ways to celebrate Memorial Day this year.
Show your patriotic pride
1. Hang wreaths, a flag, or light up your home using lanterns, or red, white, and blue lights both inside and out. We've outlined some crafts below that are fun for the whole family.
2. Encourage your family to sport red, white, and blue all weekend. If you're not sure what to wear, red, white, and blue socks make a festive addition to any outfit, or you can try making these cute red, white, and blue flip-flops.
Craft with the kids
3. Teach the kids that Memorial Day isn't just about picnics, parties, and a day off from school. Take the time to talk to your little ones about the sacrifices made for our country while they have fun with some of these crafts:
Have a picnic
4. Grab a blanket, pack some sandwiches, tell each kid to grab one or two of their favorite outdoor toys, and head to your community park. Tons of families will be out enjoying the sun and the day off. You might even consider bringing an easy craft for the kids, like the DIY painted rocks, and handing them out to other families to spread some patriotic spirit.
Soak up the sun
5. Beaches will be crowded, so get an early start if you plan on heading coastal this weekend. Some of our favorite family-friendly beaches in Southern California are:
Mission Beach, San Diego County
Moonlight Beach, San Diego County
Seal Beach, Orange County
Baby Beach in Dana Point Harbor, Orange County
Leo Carrillo State Beach, Los Angeles County
Playa Del Rey Beach, Los Angeles County
Goleta Beach Park, Santa Barbara County
Santa Claus Beach, Santa Barbara County
Ventura State Beach, Ventura County
6. Don't want to commit to a day at the beach with the family? Head to your neighborhood pool and bring lots of toys, sunscreen, drinks, and snacks. The kids can play while you relax and work on your tan.
Invite friends and neighbors to a cookout
7. Call up your friends and neighbors and tell them you'll be grilling burgers and hot dogs and providing drinks, but ask them to bring some side dishes to share. That way, you're providing the venue and main course, but you won't have as much work or cleanup to do on Tuesday. Keep track of what your guests volunteer to bring so that you don't have doubles and aren't missing any staples (like potato salad or watermelon!).
Hint: If you host your cookout on Sunday, you'll have all of Monday to recover and clean up!
8. If you get invited to a cookout, here are a few unique Memorial Day side dishes you can bring to stand out and show off your patriotic spirit:
Like what you see here? Sign up for more! Our free e-newsletter informs you of listings in your community, insider real estate tips, the latest in home trends, and more.