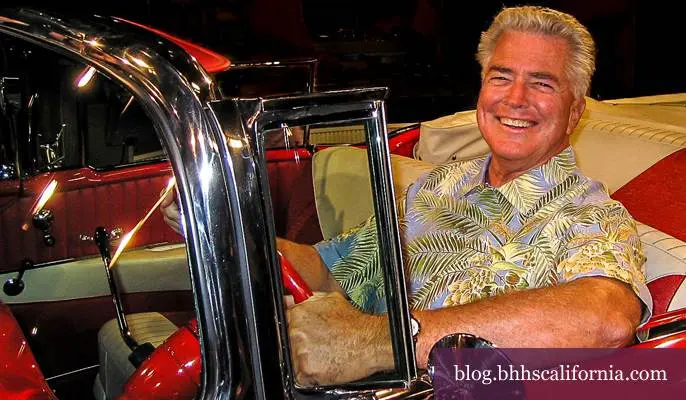 He was born and raised in Tennessee, but Huell Howser literally traveled to all four corners of California. The genial host of "California's Gold" and other PBS TV series not only produced 443 episodes about icons in the Golden State, but also became one himself.
Every place he visited, Howser connected on camera and off with the locals, other visitors, and occasional celebrities he casually interviewed over 18 seasons. Although he denied it, he became a celebrity himself. The proof: He was parodied twice on "The Simpsons," even lending his own voice to his animated character. "Ah-may-zing!" and "That's great!," his oft-repeated descriptions of people, places, and things that excited him, became catchphrases among his loyal viewers.

Howser passed away in January 2013, but fans can't get enough of his adventures at Chapman University in Orange, where he donated his estate and life's work. The permanent exhibit "That's Amazing! Thirty Years of Huell Howser and California's Gold" in the university's Leatherby Libraries includes images, text, and artifacts that outline Howser's career, and legacy in California.
Created in collaboration with the Automobile Club of Southern California, Howser's longtime sponsor, the exhibit tells the story of his life and career as broadcast journalist. It features photos and quotes on the walls, a re-creation of his office with his own furniture, and a display of his memorabilia including a piece of the original Hollywood Sign, an old, rusted-out air-conditioner coil converted to a coffee table, and found art like a sheet of colorfully corroded metal hung on the wall like a painting.
The popularity of "California's Gold" helped launch six other series about life in California: "Visiting with Huell Howser," "Road Trip with Huell Howser," "California's Golden Parks," "California's Green," "California's Water," and "Downtown." He also created shows about life in other countries, including Cuba, Egypt, Israel, Nicaragua, Haiti, Australia, European nations, and the former Soviet Union.
An interactive map of the places Howser visited, complete with brief descriptions of the show he produced for each, gives an idea of how widely he traveled around California.
Episodes of "California's Gold" and other series are available for viewing at the Chapman archives, and others are hosted online thanks to KCET, Howser's public-television home, along with books and DVDs. Clips and some full-length episodes are streamed from the Huell Howser Productions site. The Chapman archive also provides online descriptions of many episodes.
So while California's biggest fan is gone, his "ah-may-zing" body of work is destined to live on in cyberspace and at the university where he felt it would be cherished most.
Where:
One University Drive
Orange, CA 92866
Cost:
Free
Hours:
Tuesday-Friday, 9 a.m.-5 p.m.
Saturday, 10 a.m.-6 p.m.
Sunday and Monday, closed
714.997.6815
Like what you see here? Sign up for more! Our free e-newsletter informs you of listings in your community, insider real estate tips, the latest in home trends, and more.