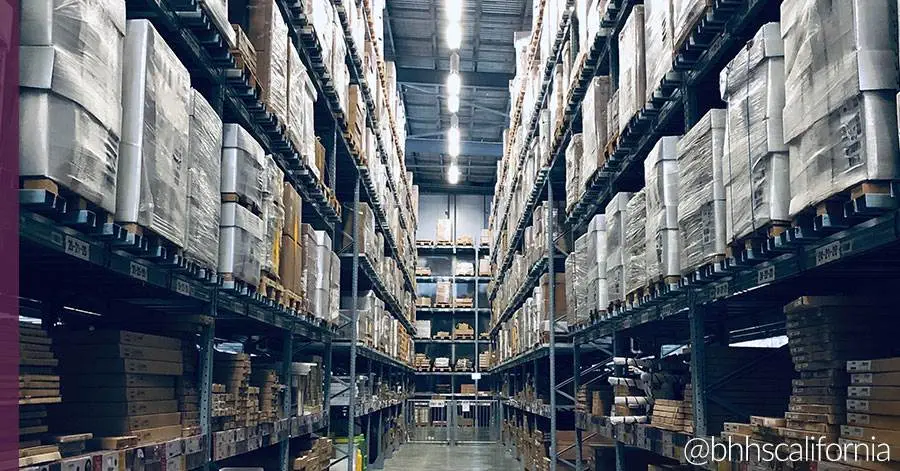 Receiving next-day deliveries from companies like Amazon and Walmart is so common now, most consumers don't give a thought about where the products they order are warehoused and shipped from.
But commercial and retail property owners think about it all the time. Why? Because the rise in popularity of online buying has had the perhaps-unintended consequence of mega distribution centers popping up all over the country. At the same time, smaller warehouses go vacant, along with the brick-and-mortar retailers that kept them in business. 
You might have seen these massive distribution centers in smaller cities outside major metropolitan areas like Los Angeles and San Francisco, usually right next to freeways and airports. In Southern California, some are located in San Bernardino, Riverside, and Ontario. Why is that?
Larry Margo, a Commercial Associate in our Studio City office, has some observations about the huge-warehouse invasion. We talked to him about how the large, automated fulfillment centers are affecting the commercial market in our region.
Why are the big warehouses locating away from big cities?
"It's wherever they can get some land, which is pretty hard to come by in densely populated cities," Larry said. "These are really big places–some of them are 800,000 to a million square feet. I know people In San Bernardino and Riverside who are actually building spec buildings to try to entice large companies, and try to lease them out to the big retailers. They'll probably be successful if they've done their demographics properly. Maybe if they have a lease, or do a lease-to-build, or something like that. It would be great if you can get a contract before you put the building up."
What kind of impact are companies like Amazon and Walmart having on smaller retailers?
The smaller ones keep shrinking. An April report from Coresight Research found that U.S. retailers have announced 5,994 store closures this year, compared to 5,864 in all of 2018. And according to freightos.com, which tracks the shipping industry, Amazon builds on its success by thinking big. This includes expanding into new markets, building capability along the supply chain, and finding new ways to take market share from traditional retailers. Higher market share is why they now offer same-day and next-day deliveries, using predictive analytics to determine new Amazon fulfillment locations.
"Amazon, Walmart, Target, and other large companies that want to do service-oriented retail, need those spaces so they can use their robotics to get that shipping out within 24 hours. That's kind of what they promise," Larry said.
Is new warehouse construction growing?
While the pace of construction activity peaked in 2016 and has tapered since then, industrial warehouse properties were among the strongest annual increase in 2019 Q2, according to the National Association of REALTORS®' Commercial Real Estate Quarterly Market Survey of Commercial REALTOR® Members and Affiliate Organizations. In the same quarter, the report cited a decline in construction activity for certain retail strip centers and retail malls.
Have land values gone up in places like San Bernardino and Riverside?
"I'm pretty sure they have. I don't know how much regulation has affected it, but I've got a hunch that the cities are going to start doing something," Larry noted.
Are the big warehouses affecting owners who are trying to lease out their smaller buildings?
It depends on where they are, Larry said. He thinks they've been doing very well with warehouse leasing because there's more demand but not a lot of space available. "There certainly isn't big space unless you go build it. That's the reason you see a lot of those new buildings out there, because they didn't exist until companies like Amazon moved in. The reason so many people went out to San Bernardino and Riverside was because the land was inexpensive. You just couldn't do it in L.A. County anymore."
Ready to learn more? Connect with one of our Commercial Specialists today. 
Like what you see here? Sign up for more! Our free e-newsletter informs you of listings in your community, insider real estate tips, the latest in home trends, and more.