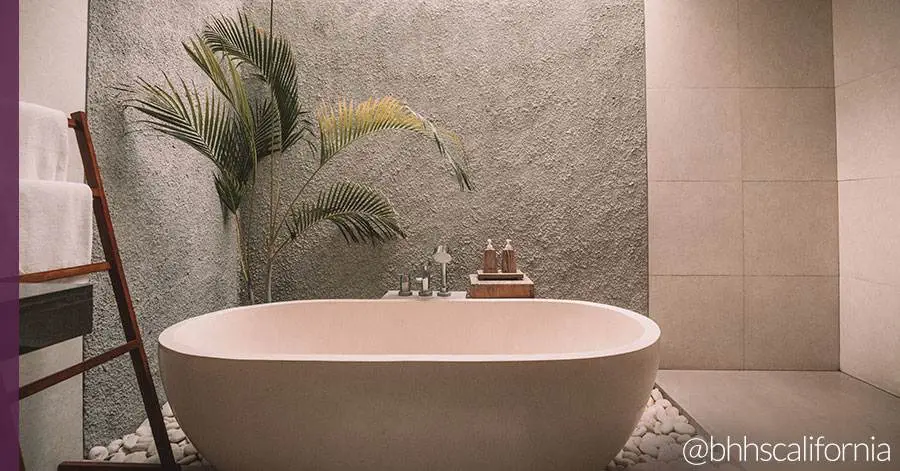 Wouldn't you love to incorporate the relaxing and tranquil environment of a day spa into the comfort of your own home? Your bathroom is the perfect space for a spa-like makeover because it is likely one of the most used and under-appreciated rooms in your house.
Just because the bathroom is all about function, doesn't mean that it doesn't deserve to be styled with intention and purpose, just like any other room in your home. The good news is that you don't need a big remodel or renovation to turn your bathroom into a serene oasis. Just implement a few of these design elements, and you will be ready to refresh, relax, and unwind in your newly improved space.
Think minimalistic
When you walk into a day spa, they always have a common trend in mind: they are very minimalistic. Keep your palette neutral and focus on incorporating colors that promote relaxation. Whites are always a safe choice, as are muted blues, soft greens, and lavender shades.
Tip: keep your towels, bathmats, and fabric shower curtains in bright white (as they do in spas) so that you can wash them with a splash of bleach to keep them crisp and looking brand new.
Use decorative organization
Just because you are keeping a minimalist design in mind, doesn't mean you have to disregard your favorite toiletries and products for the sake of aesthetic. The key to keeping a clutter-free bathroom, no matter how tight you are on space, is to make sure that your storage is both functional and easy on the eyes.
Use simple glass jars to hold your q-tips, cotton pads, and other small loose items. Roll your towels and layer them on shelving or in cabinets to mimic the presentation of your favorite spa. Keep extra rolls of toilet paper, hair products, and other toiletries tucked away in wicker baskets to keep them out of site, but easily in reach.
Finally, use a simple tray to collect items you use on a daily basis, such as soap, hand lotion, perfume, etc., on an intentional display.
Add botanicals
The benefits of adding living plants into your home décor has been a hot topic in interior design this year, but have you considered adding plants to your bathroom? There are certain varieties of plants that actually thrive in low light and high humidity, making your bathroom an ideal climate!
Tropical plants such as pothos, orchids, bromeliads, and peace lilies will flourish in your bathroom. As an added bonus, you will be able to enjoy a few benefits such as better air quality, improved mood, and brightened space from including plants in your bathroom oasis.
Use aromatherapy
Another unforgettable experience when you walk into a spa is the fresh and clean fragrance wafting through the air. Essential oils are commonly used in spa practices and are typically diffused through the air and used topically in special massage treatments. Because scent associations are one of our strongest senses to transport our minds to a specific time and place, using essential oil blends to promote relaxation at home (combinations of eucalyptus, spearmint, lavender, rosemary, or citrus) will instantly help you to relax and clear your mind.
If you don't have space for an oil diffuser in your bathroom, you can drip a few essential oils onto the back of your shower floor and the steam from your shower or bath will naturally diffuse the fragrance through the air.
Other options include: tying a bundle of fresh eucalyptus to your shower head for an instant luxury shower experience, adding an essential oil bath bomb, or lighting calming aromatic candles to promote a relaxing mood.
Bonus: Add a bath caddy
If your favorite way to unwind includes a long bath and a glass of wine or tea, a bath caddy may be the perfect item to complete your luxury bathroom experience. Bring a candle, a book, a face mask, and your favorite beverage to unwind, and get ready for some quality zen time.
Whether you're ready to implement a fresh clean palette, decorative storage solutions, fresh plants, or aromatherapy, these easy tips are sure to have you feeling serene and relaxed in no time.
Want more home design tips? Subscribe to our newsletter. 
Like what you see here? Sign up for more! Our free e-newsletter informs you of listings in your community, insider real estate tips, the latest in home trends, and more.