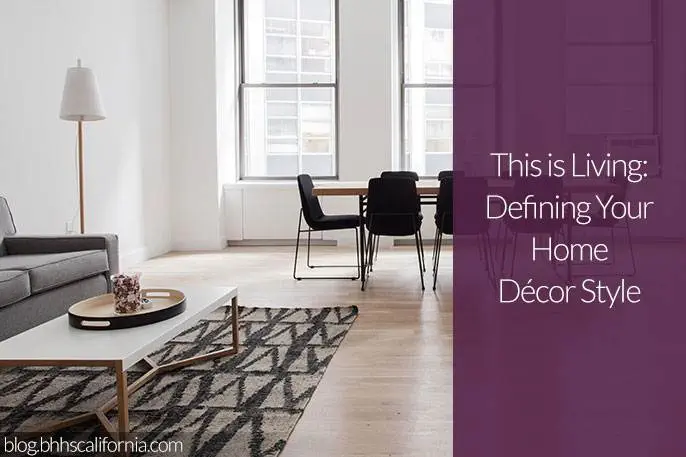 The key to creating a happy home is to cultivate a space that truly feels like you. Many homeowners believe that calling their style "eclectic" is a safe catch-all alternative to figuring out what their decorating style is. The truth of the matter is that identifying a specific style, or combination of styles, that speaks to you, will help you create a space that brings you joy and makes your house feel like home.
Minimalist home design
With a minimalist approach to home design, the focus is on simplicity and practicality. Minimalism is not a lavish home design, but that does not mean it is lacking in style by any means. If your focus is on function and collecting a beautiful array of items which also serve essential purposes, you may appreciate the minimalist design style.
Mid-Century Modern design
If the idea of clean lines, organic curves, and a love for layering textures has you swooning, you may find yourself right at home with the mid-century modern look. These design elements draw inspiration from the mid-1930's to mid-1960's but have a timeless charm and understated look that never goes out of style.
Farmhouse décor
If Joanna Gaines and her Magnolia Market make you want to up-and-move to Waco Texas, you may be drawn to the farmhouse look. Farmhouse style incorporates rustic elements, with a focus on comfort and shabby chic design. Mixing natural textures like wood and copper create a cozy and warm feeling throughout every room in the house.
Coastal home décor
Living in Southern California, it's easy to be drawn to the breezy coastal décor elements. Soft, cool palettes of blue and green tones on a fresh white canvas make for the ultimate display of relaxation and comfort. Add a few natural elements such as whitewashed wood and sea glass, and you will have a beachy oasis in your very own home.
Bold bohemian design
Bright colors, bold patterns, and natural elements. Bohemian décor is for those who want their homes full of life, color, and interesting details. If you love the idea of home décor without the rules, bohemian style may be the one for you.
While design themes can help guide you in curating your home décor vibe, it's important to remember that your ideal style may display a mixture of elements. In order to feel your happiest at home, your house should be a reflection of your heart and be a place where you feel inspired. Once you find your perfect home décor style, it will be easy to curate a collection of pieces that bring you joy–or to let go of the pieces that no longer serve you.
Still not sure where to begin? Start by referring back to our favorite home design trends to try out in 2018 to see what trends speak to you.
Like what you see here? Sign up for more! Our free e-newsletter informs you of listings in your community, insider real estate tips, the latest in home trends, and more.