Author: Carita Rizzo
Photo: John Russo
Information provided by: Angeleno
With high-profile parts in Angelina Jolie's Unbroken and next summer's Terminator: Genisys, Jai Courtney locks in his role as Hollywood's rising action star.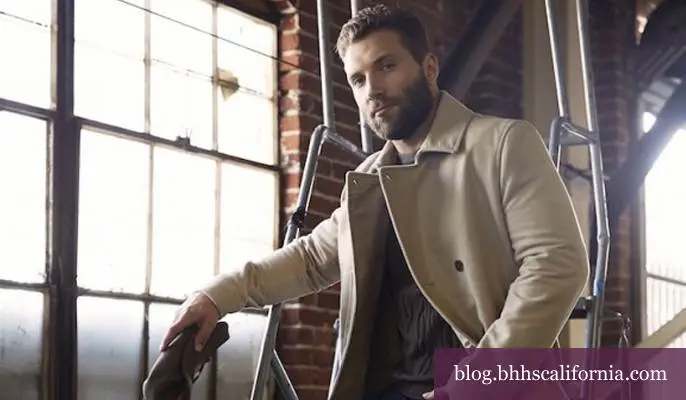 A custom Bratstyle 1976 Honda motorcycle pulls up outside of Foodlab, a gourmet deli in Silver Lake, Los Angeles, making heads turn as its engine loudly revs. Jai Courtney, looking every bit the action hero he portrays on screen, enters the cozy eatery wearing a black T-shirt that shows off ripped arms and a few tattoos. His scruffy beard gives off an air of nonchalance, as if he might be too busy maiming bad guys to shave, while his dark blond curly hair seems to have immunity from helmet head. "I'm Jai," says the handsome 6-foot-1-inch Australian, extending said muscular arm and mentioning that he would love to grab a bite to eat while we talk. Will he order a slab of bear meat? A triple bacon cheeseburger? What exactly does post-apocalyptic soldier Kyle Reese, the starring role he plays in next year's highly anticipated action blockbuster Terminator: Genisys, eat for lunch? "Can I have the arugula salad, please?" he politely asks the server once we are seated. Wait, what? Arugula? "I'm an eater. I know how to eat, but somewhat foolishly, I took a campaign back in Australia for a [clothing] company called Bonds," he tells me with a chuckle. "It means that I've got to get photographed in my underpants."
It turns out that the arugula speaks less to Courtney's culinary preferences than it does to the discipline he applies to his career. But with notable turns as an American soldier in this month's WWII drama Unbroken (directed by none other than Angelina Jolie); the Divergent franchise, in which he plays the brutal leader of Dauntless, who constantly challenges Shailene Woodley's character (the second film in the series, Insurgent, debuts in March); and as the leading man in next summer's Terminator reboot, it looks like Courtney will have to maintain this fierce commitment to his extreme physique for a while.

The 28-year-old actor from suburban Sydney confesses he's always been an all-in kind of guy. "I was a showoff as a kid and always in character," he says, a mischievous smile forming at the memory of borrowing his mother's eyeliner to draw moustaches or sometimes even using it on his own eyes. "I would let my sister put me in drag, do my hair, didn't matter. It was all just about exploration for me," he laughs. But apart from an interest awakened in high school drama class, acting was not something the son of a teacher and an engineer for the local electrical grid ever considered as a profession—until the summer he decided to get a real job. While cleaning camping equipment and counting bent tent poles for a local outdoors company, he had an epiphany. "What it did was show me that under no circumstance was I capable of pursuing a career in anything that I didn't have a passion for," he recalls. "It became apparent to me that I needed to pursue something big." He applied to three drama schools and was accepted to Western Australian Academy of Performing Arts in Perth. Three years later, Courtney started auditioning for commercials and bit parts on TV shows, landing a role on the Starz original series Spartacus: Blood and Sand in 2009, where he quickly became close with star Andy Whitfield. "Andy became my best friend but also kind of my hero," says Courtney of the actor who tragically passed away from cancer in 2011. "He had done six years of coming to the States before it had started to work out. And I was just attracted to that. I was like, 'All right. I want to give that a crack.'"
On paper it looks like Courtney's career took off at lightning speed, but the first 18 months of auditioning for projects in the United States felt like an eternity. "I saved pretty much every dollar I made on Spartacus and poured it into tickets to come back and forth. I think I made seven trips in that 18 months," he says. "Once back in pilot season, I had four auditions in one day. I had to do an American, English, Russian and Scottish accent. It was ridiculous." In what could easily be described as a sliding doors moment, Courtney had made it to the final stages of auditioning for a role on Hellcats, a CW pilot about college cheerleading. He thought that any foothold in an American production would be good for his career, but in the end, the part fell through. This led to more auditions, which eventually led to scoring his breakthrough role in the action-thriller Jack Reacher—so instead of going to fictitious college in Vancouver with Ashley Tisdale for Hellcats, he entered the school of legendary Jack Reacher star and producer Tom Cruise. "He's such a great person to work with early on because he's supportive and genuine and sets the bar so high," says Courtney. "I had a lot of time to hang out and see how this thing works. I'd never done a movie before. Every element of the production was fascinating to me." The role as Cruise's adversary was closely followed by that as Bruce Willis' son in A Good Day to Die Hard. "It was much more relaxed," he says, comparing the experience to Jack Reacher. "And I think I was much more focused on myself in that movie. Die Hard was less of that, 'Oh, wow, this crazy new world' and more about accepting that this is reality now—and wanting to do a good job."
Although Courtney comes across as someone who thinks a lot about what direction he wants his career to take, many of his greatest roles have come about rather serendipitously. For Unbroken, he auditioned for four different roles until landing a part for which he ultimately hadn't read. "It was a no‑brainer. Angelina Jolie's making a movie. The script's amazing. Roger Deakin's going to shoot it. You know it's going to be wonderful, and you can tell that before you even turn a page," he says of his determination to be part of the project about Olympian and American hero Louis Zamperini. His praise for director Jolie is equally effusive. "She's taken on a lot, but she was so in control," he says. "I'm sure she had moments of panic and loss of sleep over decisions to be made on that job, but never brought that into the room. I'd work with her again in a heartbeat."
And speaking of serendipity, while filming Unbroken in Australia, the opportunity to audition for the newest Terminator came up. With no time to prepare, Courtney set off to Los Angeles. "I left Saturday morning, got into L.A. the same day, went from the airport to my house, showered. Then I tested. I was in there for three hours with Emilia [Clarke] and Alan [Taylor] and the producers. And then went back home, got back on a plane. Arrived Monday morning and went to work. It was the weirdest thing on Earth."
With all of this focus on his career, Courtney's love life has taken a temporary back seat. Although he won't comment much on his personal life, reports surfaced late last year that he broke up with his long-term girlfriend, fellow Australian actress Gemma Pranita. But bring up his rather steady trajectory within the action genre, and the actor is a bit more forthcoming. "It's funny. It's so accidental. … Whatever. It's fine, but it certainly wasn't something I set out to do. I think some of the things I really want to do maybe are out of reach. Or maybe doing the action thing is the avenue through which I make those other things happen." Reluctant or not, his role in Terminator could forever cement his status as an action hero. "I've done the guns thing before. I've done the stunt driving. That's all great and all fun," he says, running his hands through his beard. "But the way that Kyle is written into this particular installment is cool. There's a lot to explore emotionally."
Should all else fail, he could always revert to his initial plan of becoming a character actor. "That was my excuse for saying, 'I don't have to get in shape,'" he says, smiling as he pokes at the arugula on his plate, "because I'm pretty lazy by nature." That's hard to believe, as is his hypothesis that all the recognition for his hard work could be fleeting. "The only thing I worry about is it all going away," he admits. "For me, the truth is there's never been an option. There still isn't. I would have made a terrible plumber." Considering the Herculean effort Courtney has already put into his career, we seriously doubt our humble hero would have trouble handling a stopped-up sink.
Like what you see here? Sign up for more! Our free e-newsletter informs you of listings in your community, insider real estate tips, the latest in home trends, and more.