Everyone likes to save money, especially if the savings can be deducted directly from your utility bill. When you move into a new home (or if you haven't done so in your current home), address the home's energy efficiency. A few small repairs or fixes could save you hundreds of dollars per year. Try some of the tips below and watch your utility bill shrink.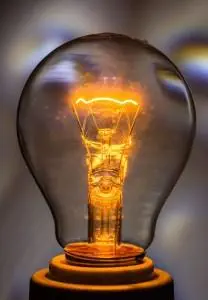 Check your home for leaks. Check the attic, basement, crawlspace, windows and doors. Use caulk to seal any cracks and gaps.
Inspect your heating and cooling systems. Older systems can be a black hole sucking the money right out of your pockets. Upgrade your heating and cooling system and you could save hundreds of dollars.
Lower your water heater temperature to 120 degrees for best results. If your heater is set too high, it can eat up as much as 25 percent of your energy costs.
Replace incandescent light bulbs with compact fluorescent lights, which use 75 percent less energy and last longer.
Install dimmer switches on indoor lights and timers on motion sensors.
Upgrade your appliances with energy-efficient models.
Unplug electronic devices you're not using.
Install a programmable thermostat to manage your heating and cooling system.
Skip the heated dry on your dishwasher cycle or air-dry your dishes.
Wash only full loads of laundry.
Switch your ceiling fan to turn in a counterclockwise direction in the summer; in the winter, run it at low speed, but clockwise.
Change and clean your furnace/AC's air filters at least once a month.
Block the sun with drapes and shades during the day.
Plant trees around the sunny side of your home to provide shade.
Like what you see here? Sign up for more! Our free e-newsletter informs you of listings in your community, insider real estate tips, the latest in home trends, and more.