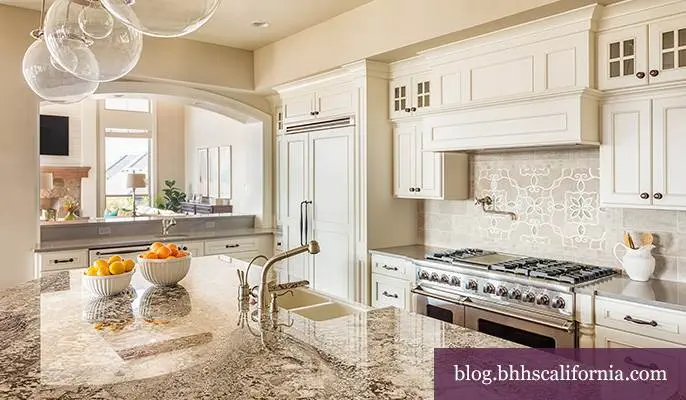 Has granite lost its luster as the kitchen countertop of choice? Despite advancements in countertop materials, and to paraphrase Mark Twain, reports of granite's death appear to be greatly exaggerated.
A kitchen favorite for decades, the natural stone isn't always the first choice for younger homeowners, who might associate it with older generations' kitchens. Many are opting for other surfaces, which in recent years have come a long way in matching granite's strength and durability.
With more countertop choices available, some homeowners are using more than one type in their kitchen design. A food-prep area, where cleanup and bacteria resistance are concerns, might call for quartz. And granite might be best in a space used for serving because it is the most heat-resistant. So it isn't unusual to surface an island in one material and the perimeter in another.

Here are some other materials trending in kitchens across the country, plus another look at granite:
Quartz
Quartz is emerging as a popular choice, according to the National Kitchen and Bath Association. In its 2015 Trend Survey, 88 percent of kitchen designers said they are now installing quartz countertops–a major increase over 2014. Quartz is an engineered product that combines quartz stone and resins, which are then molded for a natural look that can mimic granite, marble, limestone, and more. Brand names include Caesarstone, Silestone, Zodiaq, and Cambria. On the plus side, quartz is stain- and bacteria-resistant, nonporous, highly durable, and does not need to be sealed. As for minuses, the resins mean quartz isn't as heat-tolerant as granite, and can be expensive–$70 to $125 per square foot or more.
Laminates
Laminates have been in use for almost 75 years and have improved over time. They are economical and come in a variety of colors, patterns, and finishes. Brand names include Formica and Wilsonart. Pluses: New edging choices have eliminated the dark line that was often associated with laminates. As a result, patterns more closely resemble the look of granite, marble, wood, and more–and are offered in fun and retro styles. All cost quite a bit less than other popular choices, ranging from $8 to $25 per square foot. Minuses: Laminate counters resist heat only to about 140 degrees, so hot coffee pots, serving dishes, and pots and pans shouldn't be placed directly on the surface.
Solid surface
Solid surface is another engineered product that combines resins, pigments, and fillers for a high-tech product that emulates a variety of natural materials. Brand names include Corian, Gibraltar, and Earthstone. Pluses: Patterns range from bold colors to stone lookalikes. Surfaces are nonporous, and especially resistant to mildew, bacteria, and stains. Since they are molded, solid surfaces seamlessly accommodate integral sinks. They cost less than high-quality quartz and granite, about $50 to $100 per square foot. Minuses: Heat-sensitive can be scratched, although scratches can be buffed out.
Granite
Granite retains its popularity because the natural stone is extremely durable, heat-resistant, and rarely scratches or chips. Some granites are subtle, while and others have strong veining that commands attention. Pluses: Comes in a wide range of colors and natural patterns. Minuses: Heavy, may need regular resealing, and is so hard that many items dropped on it are likely to break. Can be costly, from $45 to $400 per square foot, depending on rarity, thickness, finish, edge detailing, and where it was mined.
Other materials to consider, and their benefits, include tempered glass (easy to clean), ceramics (practically indestructible), nanotech (self-e-healing), soapstone (heat-resistant, won't stain), stainless steel (ideal for heavy-duty use), and butcher block (natural, durable, good for islands).
For help deciding which material works best for your new or remodeled kitchen, consult with a designer or contractor, or visit showrooms to get a feel for what's available. There's nothing like a hands-on touch to discover the countertop that fits your personal style in the kitchen.
Interested in more homeowner tips? Visit the Homeowner Resources section of our blog for more articles just like this.
Like what you see here? Sign up for more! Our free e-newsletter informs you of listings in your community, insider real estate tips, the latest in home trends, and more.