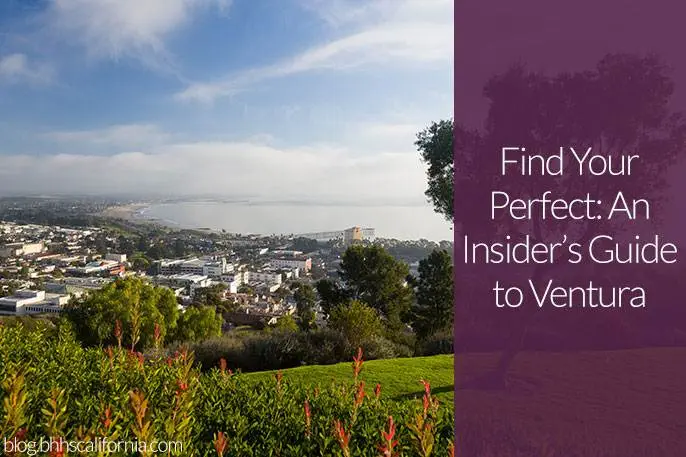 Some people call Ventura "the city of good fortune" because Father Junipero Serra named it after the Italian saint whose name roughly translates to "good luck."
However, Lyle Elliott, our Ventura branch manager and a transplanted Midwesterner, likes to call the coastal city "Topeka by the Sea."
Bounded by the Pacific Ocean, several mountain ranges, and fertile agricultural zones, Ventura evokes a small-town feeling. The city of about 110,000 has a compact downtown close to the beach, where Lyle and many residents enjoy spending time. Locals and tourists alike are friendly, and time passes a little slower than in glittery Santa Barbara 30 minutes north and hectic Los Angeles an hour south.
Eats
If you're passing through Ventura on Highway 101, why not stop to eat downtown instead of at the chain restaurants that line the freeway? Here are some suggestions from Lyle, who's lived in the city since 2009:
Breakfast | One of the most popular places is Pete's Breakfast House (an eggscellent eggsperience!) on East Main Street. Lyle says there's often a line of people on the sidewalk waiting to get into the former little house on the weekends. It's been around since the 1980s.
Another downtown place that can have long lines is Cajun Kitchen Café, also on East Main since 1984. Lyle says the lines are comprised of people going to or from the Saturday farmer's market about a block away. The restaurant also serves lunch.
Lunch | Café Nouveau on East Thompson Boulevard also is in an old house converted to a restaurant, with a huge patio for dining alfresco. About a block away, in yet another former house, is Café Zach on East Thompson Boulevard.
Another lunch/dinner favorite Lyle recommends is Lure Fish House on California Street. Next door is Café Fiore on California. Both have great patios for dining outside.
Happy Hour | Several cool downtown spots are right next to the water, Lyle says. He likes the Crowne Plaza Ventura Beach, the city's only beachfront hotel, which has a bar and patio right on the boardwalk.
Happy hour starts at 3 p.m. at Rumfish y Vino, also a great choice for dinner, boasting an outdoor patio with fireplace, and a spectacular courtyard. It has a very different, very interesting menu, Lyle says.
Don't miss
For such a small city, Ventura has an outstanding Botanical Garden at Grant Park. It's relatively new, Lyle says, but has really taken off thanks to an influx of donations. It offers a great hike above City Hall, with spectacular views over downtown, the ocean to the Channel Islands, and the agricultural fields near Santa Paula. The Demonstration Trail is almost a mile long and six feet wide, with a decomposed granite surface and hand‐built stone walls. The trailhead begins at the upper parking lot behind City Hall at 501 Poli St. "It's kind of an offbeat little spot." Lyle says.
Bring the kids, bring the dogs
The entire city is very kid- and dog-friendly. The parks are safe, and there are five of them right along the beach. Many businesses welcome pets, so you can feel confident bringing your four-legged friends along.
If you're into biking or hiking, you can do both on the 15-mile Ojai-Ventura Bike Path. Dogs on leash are welcome to accompany you on this easy and scenic ride/walk, which is open year-round.
"The thing about Ventura is the temperate weather, we're right on the water, and we have hillsides and mountains right next to the water, which a lot of places usually don't have. The beach is safe and you can go surfing almost every day of the year," Lyle says.
Lyle's idea of a perfect Saturday afternoon in Ventura
"Downtown is charming and it's two short blocks to the beach. Enjoy a cup of coffee at Palermo espresso bar, then walk down to the beach and along the boardwalk, either just talking to people or watching the surfers. If you have time, take a whale watching trip to the Channel Islands."
Want to live in Ventura?
"In comparison to other coastal cities, Ventura is a gem, one of the most affordable cities on the Pacific Ocean," Lyle says. "$550,000 would get you a three-bedroom, two-bath single family home. At The Keys, you could get a home with a boat dock for a little over $1 million. In Malibu, that would be $5 million. Ventura County is really hard to beat as a whole for homes. It's a bargain and a half."
What about jobs? "Patagonia is based here, and they hire a lot of local people. The city is the county seat, so there are a lot of government jobs. Community Memorial Hospital's expansion is attracting a lot of professionals, and Ventura College employs many people who commute from Santa Barbara and the San Fernando Valley.
"I have agents who are fourth- and fifth-generation Venturans because they just love it so much here. The city is very restrictive on growth because of the agricultural lands. And there's more refurbishing of existing buildings than new construction.
"It's its own city, and because of the agricultural land, and the ocean and mountains, we're not a suburb. That's why people stay here."
Like what you see here? Sign up for more! Our free e-newsletter informs you of listings in your community, insider real estate tips, the latest in home trends, and more.