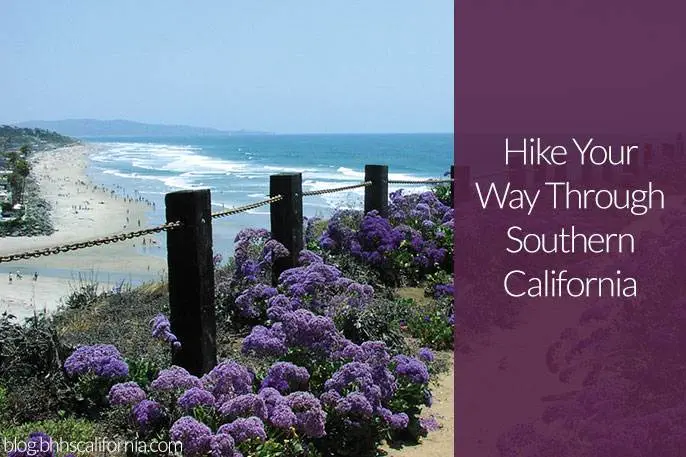 Whether you're new to hiking or you're an avid hiker who heads out every weekend, hitting the trails for an afternoon surrounded by nature is something most Southern Californians love to do.
As a region, we are blessed by some of the most beautiful terrains in the world, such as mountains, coast, and desert, which means there is no shortage of beautiful hikes.
We've found several hikes from San Diego to Santa Barbara that are either challenging or relaxing, but always beautiful.
Best hikes in San Diego:
Torrey Pines State Natural Reserve – Beginner
Several trails make up Torrey Pines State Natural Reserve, but the easiest is the Guy Fleming Trail. The loop is less than a mile with two overlooks, and it provides up-close views of Torrey Pines and stunning ocean views. If you're looking for a trail that is a little more challenging, the easy to moderate Razor Point Trail is 1.4 miles and still includes stunning ocean views.
Cowles Mountain – Intermediate to Advanced
Leading up to the highest point within San Diego is the 3-mile Cowles Mountain hike. Located in the San Carlos neighborhood, the trail has steep switchbacks but is not too difficult to tackle if you're determined. At the top, you'll be able to enjoy 360-degree views of San Diego. Locals like to hike up during a full moon for an even more beautiful view– just remember to bring a hiking partner!
Mount Woodson, a.k.a. "Potato Chip Rock" – Advanced
You may recognize this rock from the hundreds of Instagram photos it has been featured in. The hike is recommended for experienced hikers, as it is a strenuous workout, but once you get to "potato chip rock," you'll find it is definitely worth the climb! Prepare your perfect pose as you stand in line, because sometimes you'll have to wait before you can capture the shot.
Best hikes in Orange County
Peter's Canyon – Beginner
Known for its "lake view" of a 55-acre reservoir, this 2.6-mile loop is easy and even partly shaded with willow trees. Things to know: Watch out for mountain bikers, be prepared to pay $3 for parking, and the trail could be closed for up to three days after it rains.
Whiting Ranch Hiking: Red Rock Canyon  – Beginner to Intermediate
This trail is popular because it is mellow and ends in a smooth red-rock canyon, which is not common in Orange County. Though it is a pretty long hike, about 4.2 miles, the sight at the end of the trail is well worth the time and effort spent getting there. A local hiker suggests heading out at sunset when the red rock looks even more colorful, or as early as possible if you want a less-crowded trail.
Top of the World – Intermediate to Advanced
This hike offers some of the best views in Laguna Beach once you reach the top. Your climb is rewarded with 360-degree views of Orange County and breathtaking ocean views. You can begin this hike at the Alta Laguna Park and if your dog loves to hike, bring him along too!
Best hikes in Los Angeles
Bronson Canyon – Beginner
At the end of this trail you'll find the "Bronson Cave," which is actually a 50-foot cave-like tunnel. You may recognize the entrance of the tunnel from several films, such as Star Trek VI and Army of Darkness. It's best known as the mouth of the Batcave from the 1960s Batman TV series.
Cave of Munits – Intermediate to Advanced
This action-packed trail is just over two miles, but it offers much excitement, a vertical cave, and a steep ascent to what's known as Castle Peak along the way. Fun fact: This hike starts in Los Angeles County, but loops through Ventura County.
Bridge to Nowhere – Intermediate to Advanced
You'll want to dedicate at least six hours to this hike, and if you hit the trail during the rainy season, be prepared to wade through water and cross four rivers. Though an easy-to-acquire wilderness permit and a national forest day pass are required to hike, it will be worth the effort. For many, the trek to the bridge is not the only adventure. You may find thrill-seekers bungee-jumping from the top or refreshing themselves in the swimming hole.

Best Hikes in Ventura County
Paradise Falls – Beginner
The family-friendly and dog-friendly trail easily leads hikers to the falls year round. The hike is an average of 2.4 miles to and from the 40-foot waterfall, though there are several different routes you can take to get there. As you make your way to the waterfall, keep your eyes peeled for the tepee that this trail is also known for.
Mugu Peak – Intermediate
This hike that is part of the Santa Monica Mountains features mountain views, sweeping meadows, and stunning coastal views. You are surrounded by gorgeous views during the entire 5-mile hike.
Best hikes in Santa Barbara
Gaviota Wind Caves – Beginner to Intermediate
The trail to the wind caves, which are a sandstone formation just a mile from the Pacific Ocean, starts out easily on a paved trail before climbing rapidly to the ridge and the caves. Once you reach the caves, you'll be at the midway point of a 2.5-mile round trip. Take time to explore and take in the views before heading back the way you came.
Montecito Peak – Intermediate to Advanced
This 7.1-mile round-trip trek is definitely a longer hike, but ocean views will distract you enough that you may not even notice the calories you are burning. If you reach the top of the peak, you'll be rewarded with views of Santa Barbara, the Channel Islands, Ventura, and more.
Did we miss one of your favorite hikes? Tell us your favorite in the comments.
Like what you see here? Sign up for more! Our free e-newsletter informs you of listings in your community, insider real estate tips, the latest in home trends, and more.