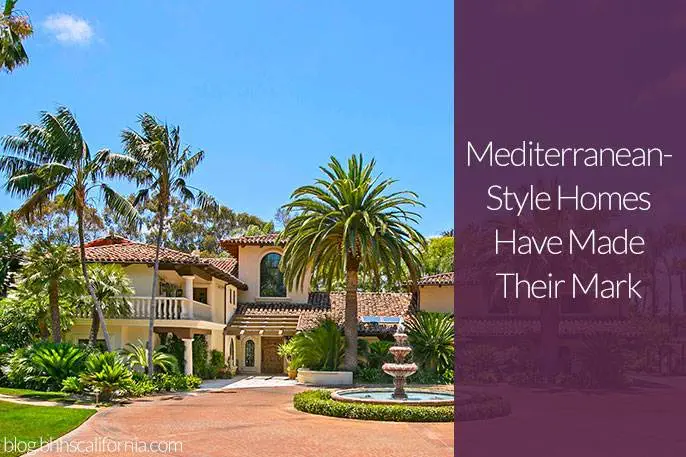 You don't have to travel to Greece, Spain, or Morocco to admire a Mediterranean home. Southern California boasts plenty of old, new, grand, and humble residences in the popular architectural style, from seaside villas to suburban tract homes.
There's no single description for "Mediterranean" houses. It's really a catch-all term for styles that include Mediterranean Revival, Spanish Revival/Spanish Colonial Revival and, since these homes often combine many styles, Spanish Eclectic.
What they look like
You probably know a Mediterranean-style home when you see one. Although their architectural elements vary depending on size and age, here are some key common characteristics:
Open to the outdoors: Houses may feature terraces or courtyards, porticos, balconies or any number of outdoors elements inspired by houses on the Mediterranean.
Red-tiled roof: Spanish and Mexican missions were the inspiration for these roofs. The fireproof tiles were originally made from clay pots and bricks, and shaped like a half-tube to shed water effortlessly. An air pocket in the tunnel of the half-tube helps keep air cool. These tiles, heavier than regular shingles, can last a century or more, and are usually low maintenance.
Stucco wall: The stucco finish protects exterior wall surfaces from rain, sunlight, and heat, all common in Mediterranean climates.
Arches: This ingenious design dates back to Roman times. It is a self-supporting element that allows walls to be lightweight yet sturdy. Each of the stones next to the keystone in the arch atop the side columns distributes weight to the sides and downward.
Ornamental detail: Mediterranean-style homes usually feature flourishes ranging from large, heavy wooden doors with ornate carvings to multicolored tiles for the risers of staircases.
What they're like inside
Warm, earthy, and rich textures are the foundation of many Mediterranean-style homes. Wrought iron, colorful patterned tile, spiral staircases, rustic wood beams, and bright textiles are often found in Mediterranean interior design.
Some homes feature grandiose, palatial spaces, but others can be as homey as a rustic kitchen with a wood-burning oven and a family-style dining table.
Kitchen walls are often plastered with lime to allow the walls to breathe. Such walls may need to be renewed every year with a fresh coat.
Flooring is often made of terra-cotta tiles, though granite and marble are also common, keeping feet cool on hot days.
Popular on both southern coasts
The heyday for Mediterranean-inspired homes in the United States was in the early part of the 20th century, embraced on the southern coasts where climates mimic that of the Mediterranean. They peaked in popularity during the 1920s and '30s, drawing heavily on the style of seaside villas, and the rapidly expanding coastal resorts of California and Florida.
Scores of newer homes throughout Southern California have been built in the Mediterranean style, and it's not too difficult to find one to purchase. Some even carry Mills Act historic designation, which can result in property-tax breaks for owners.
Legendary Mediterranean properties you can visit
A number of grand Mediterranean-style homes and buildings still exist in our region. Some are open to the public, others have been subdivided and are used as movie locations as well as for charity events. Here are a few:
Balboa Park, San Diego: The California Quadrangle and other "temporary" structures built for the 1915 Panama-California Exposition still attract millions of visitors each year. Now serving as museums, restaurants, and exhibition halls, they blend several architectural styles, which came to be known as Spanish Revival. Soon after they were built, residences reflecting the style began to find favor with homebuyers in the area. Many of those homes line the streets of the surrounding neighborhood. The El Prado Complex was listed on the National Register of Historic Places in 1976.
Architect Paul Williams designed more than 2,000 private residences, many of which featured a Mediterranean influence. His famed homes, many built for celebrities and influential businesspeople, are found throughout the Hollywood Hills, Mid-Wilshire district, historic West Adams, Pasadena, and La Canada-Flintridge.
Considered one of the most impressive estates ever built and added to the National Register of Historic Places in 1984, Greenacres in Beverly Hills was the crowning glory of architect Sumner Spaulding. Formerly called the Harold Lloyd Estate, it is an exceptional example of Mediterranean/Italian Renaissance-style architecture. The home was built in the late 1920s as a nod to Villa Palmieri near Florence, Italy. Now subdivided, the main entrance can be seen at 1740 Green Acres Place, Beverly Hills.
Hearst Castle is perhaps the most well-known example of the grandeur of Mediterranean architecture. This Spanish Revival mansion in San Simeon, originally designed by architect Julia Morgan as a private residence for newspaper magnate William Randolph Hearst, is today a state historic park open for public tours, and is a National and California Historical Landmark.
Want to live in your own Mediterranean-style home? An experienced real estate professional can help you find one, without having to travel overseas!
Like what you see here? Sign up for more! Our free e-newsletter informs you of listings in your community, insider real estate tips, the latest in home trends, and more.