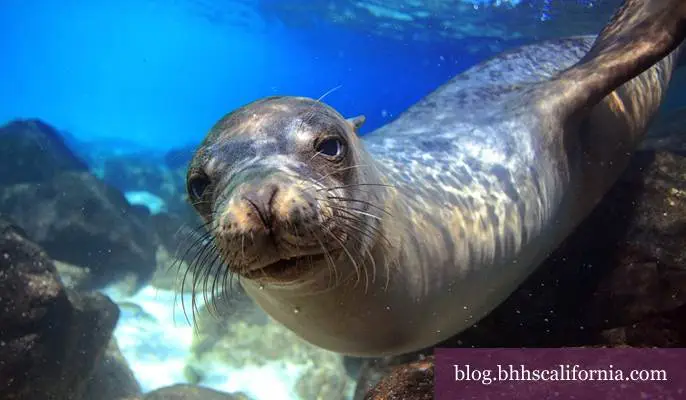 While their family and friends are frolicking in the ocean six miles away, a group of pinniped "patients" is recovering at an inland Orange County rehab center designed to care just for them.
The Pacific Marine Mammal Center in Laguna Canyon rescues, rehabilitates, and releases ailing pinnipeds including sea lions, elephant seals, harbor seals, and fur seals–and you can watch their progress in person or online.

The nonprofit research and recovery center's busiest season is late winter and early spring, when pups are weaning from their mothers and more susceptible to natural medical issues such as malnourishment and dehydration. Unlike whales and dolphins, seals and sea lions don't need to stay in water to survive. The animals beach themselves to be warm and dry when feeling ill. While they seek rest on land for many reasons, they don't always need intervention. Center staff is trained to recognize animals suffering from infections, malnourishment, pneumonia, gill-net strangulation, and other conditions that can harm an animal's chances for survival.
To see how "patients" are doing, you can visit them daily from 10 a.m. to 4 p.m. except Thanksgiving, Christmas Eve, Christmas Day and New Year's Day. Admission is free but donations are appreciated.
If you want to see who's in rehab at the moment, the center website has profiles and photos of each "patient" in its care. You also can watch them regaining their strength in a pool and basking in the sun via the center's live webcam.
Several options are available if you want to learn more about our oceangoing neighbors. The center conducts educational programs for children and adults, and offers Camp Pinniped summer day camp for kids ages 8-12 June through August. Training for volunteers and docents is ongoing. Visit their website for details. If you see a stranded marine mammal in Orange County, the site also has a link with instructions on what to do and who to call.
If you'd like to support the center in a more festive way, it's not too early to buy tickets for the Sept. 20 Marine Mammal Gala, a whimsical event with an evening full of gourmet cuisine, live entertainment, and unique auction items to bid on. Prices for the gala at The Ranch at Laguna Beach are $200 per person or $1,750 for a premium table of eight.
Like what you see here? Sign up for more! Our free e-newsletter informs you of listings in your community, insider real estate tips, the latest in home trends, and more.