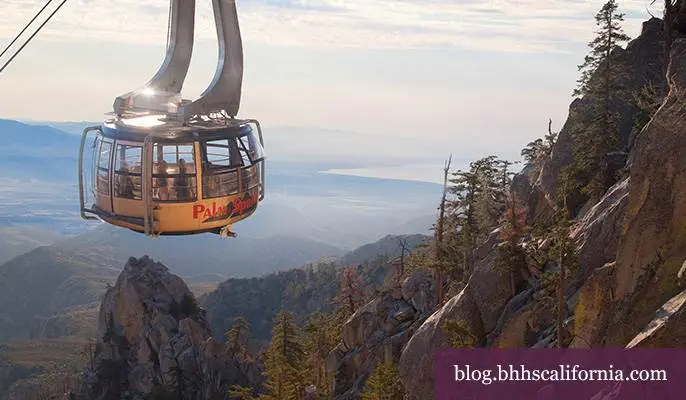 It took 23,000 helicopter missions to build, has withstood four decades of desert heat, mountain snow, and high winds, and carried millions of enthralled passengers from around the globe. But the Palm Springs Aerial Tramway still towers above all Southern California attractions as the "eighth wonder of the world."
Completed in 1963, the tram whisks riders from the Valley Station at 2,643 above the Coachella Valley floor to the Mountain Station at 8,516 feet on Mount San Jacinto in about 15 minutes. It's usually 40 degrees cooler at the top year round, so residents and visitors alike can catch a break from the desert heat in summer or toss snowballs at each other in winter.

Since the tramway's opening, approximately 18 million riders have taken the 2.5-mile round trip through rugged Chino Canyon's five distinct life zones. Modernized in 2000, the two 18-foot-diameter tram cars rotate continuously, making two revolutions so up to 80 passengers can enjoy 360-degree views while standing in place. The journey takes them up North America's sheerest mountain face on San Jacinto Peak, which rises to 10,834 feet. The cars are the largest among the only three rotating aerial trams in the world. Helicopters ferried workers, construction equipment, and materials during the 26 months it took to build the two stations and five support towers. That engineering feat earned the tramway its "eighth wonder" status.
Awaiting visitors at the top is San Jacinto State Park, with 54 miles of alpine hiking trails within a 14,000-acre pristine wilderness, one of the few left in California. A .3-mile concrete pathway leads to Long Valley, with picnic tables, a ranger station, flush toilets, and some easy trails. Six primitive campgrounds also are available for campers who obtain permits from the state park. Cross-country skiing and snowshoeing are popular winter pastimes.
For those who prefer less-rugged activities and amenities, the 35,000-square-foot Mountain Station has a gift shop, a natural history museum, and a movie about how the tramway was built. Lunch and dinner with a view are offered at Peaks Restaurant, which has waiter service and full menus, and the cafeteria-style Pines Café. The Lookout Lounge, on the same level as the restaurants, serves alcoholic beverages and appetizers.
The views from the Mountain Station are spectacular, stretching for more than 200 miles north on a clear day to Mount Charleston north of Las Vegas. Views to the east and west can be as far as 75 miles, with the Salton Sea clearly visible to the southeast. Telescopes are available and photo opps abound.
Some information, advice, and trivia if you're planning a visit:
Open every day, including holidays. First car up is 10 a.m. weekdays, 8 a.m. weekends and holidays; last car up is 8 p.m.; last car down is 9:45 p.m. Cars depart at least every half-hour.
Tickets available online and at Valley Station: $23.95 adults, $16 ages 3-12, $21.95 seniors 62+; $150 annual pass for adults and seniors, $90 ages 3-12.
Valley Station has a snack bar and restrooms.
Consider bringing a jacket and cold-weather accessories such as cap or gloves any time of year, as weather at the top can be unpredictable.
It's easy to see the Mountain Station from the desert floor at night. A 1,000-watt mercury vapor bulb shines brightly from sundown to sunup.
Address: One Tram Way, Palm Springs, CA 92262.
If you have time, check out the Palm Springs Visitor Center at 2901 N. Palm Canyon Drive and Tram Way. It's the first building you see approaching the city from the north via state Highway 111. The former gas station is a prime example of midcentury modernism architecture. Constructed in 1965, the building is known for its large, sweeping, cantilevered, wedge-shaped canopy. A similar gas station, also from 1965, is still pumping away 126 miles west in Beverly Hills.
Like what you see here? Sign up for more! Our free e-newsletter informs you of listings in your community, insider real estate tips, the latest in home trends, and more.