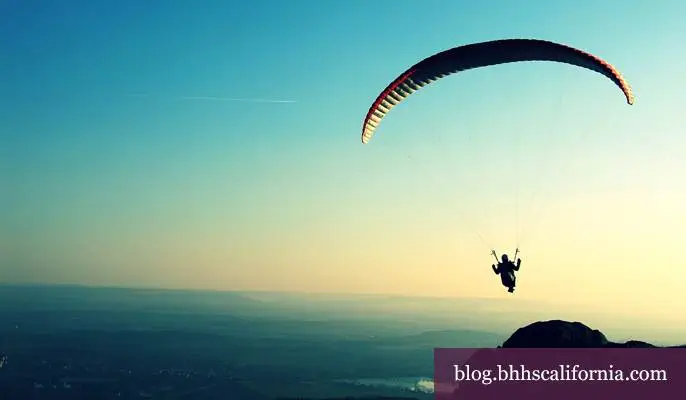 Feeling adventurous? Want to soar with the eagles instead of flapping around the office all day?
Consider flying above Santa Barbara.
There's more than one way to see the coastal city from the air, such as a helicopter tour or hot-air-balloon ride. But if you want to feel the wind whipping your face while navigating your own course through the skies, there's nothing quite like paragliding, hang gliding, or, for an extra burst of power, paramotoring.

Santa Barbara offers several choices to chart your aerial tour of the coast and inland regions. You can fly solo after a mandatory training course, or tandem with an experienced flier. Below are some firms that will get you off the ground. Most are open daily year round thanks to the mild, sunny climate. Grab your GoPro and selfie stick, and prepare for takeoff. Happy sails to you!
Fly Away Hang Gliding: Ideal for beginners, the jumping-off point for this school near the ocean is Elings Flight Park's 200-foot-high training hill, one of the easiest to learn on in the world. You can choose to launch considerably higher on a tandem flight in the mountains, but the winds can make things a bit trickier–or thrilling, depending on your point of view. Lessons start at $200 per person per day. Group rates available.
Eagle Paragliding: Get more into the sport with introductory eight-hour one-day ($200) and two-day ($375) lessons. Beginners also learn at Elings Flight Park, a private facility that receives no city, state or federal funding. Tandems are offered, as are novice pilot training programs, and longer cross-country tours around the globe. Clinics and trips are on the schedule as well. Prices vary.
Fly Above All Paragliding: Classes and prices are similar to those above, but this company also offers speed gliding, the latest craze for thrill-seekers who want to soar in higher winds, enjoy the snappier handling of a speed glider, and swoop down big mountains at high speed. Prices vary.
American Paragliding: This is where to come to experience powered flight. Paragliders outfitted with backpack paramotor units give you the ability to fly when and where you want, weather permitting. Shut off the motor at altitude and you can sail as long as the wind and thermals allow. There's even a Flyke model that combines motor, sail, and a large tricycle so you can use pedal power just about anywhere. Prices vary.
Once you're hooked, stay on top of the local paragliding scene through the Santa Barbara Soaring Association.
Like what you see here? Sign up for more! Our free e-newsletter informs you of listings in your community, insider real estate tips, the latest in home trends, and more.