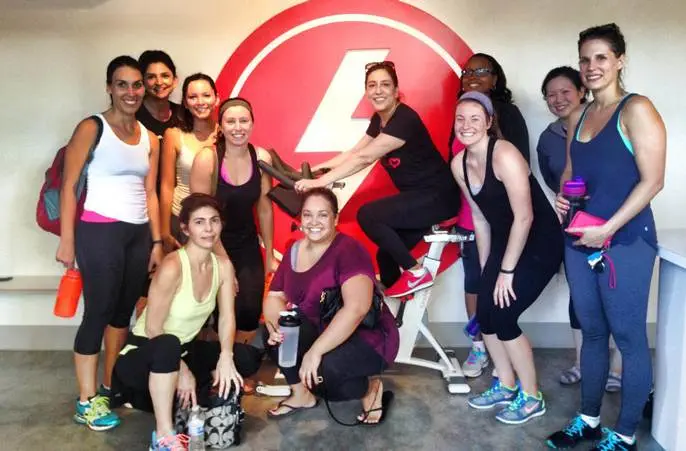 Real estate agent Rosamaria Acuña went into the month of March like a lion, motivated to raise awareness and funds for the Friends of Scott Foundation. By partnering with the team at SparkCycle to host charity cycling events throughout the month, Acuña helped raise over $1200 to support children with cancer and their families.
SparkCycle is a local cycling studio with a stadium-based layout. Each month the fitness center hosts a weekly 'Karma Ride' to help a favorite nonprofit, in which 100 percent of the proceeds collected are donated.
"I would like to thank the more than 150 riders who came out to show their support for the foundation during the month of March, and especially Stephanie Cochrane, the owner of SparkCycle," said Acuña, an agent for the past 27 years. "I would also like to thank the folks at Juice Crafters for providing samples after one of the rides. It's really great to witness the generosity and compassion of our community first hand."

The Friends of Scott Foundation was founded in honor of Scott Delgadillo, who lost his battle with leukemia at the age of 14. Funds raised from the 'Karma Rides' will be used to fund the charity's annual Unforgettable Prom for Children with Cancer event at the Hall of Champions in Balboa Park.
Acuña has a long track record of service to the community. Active with the Friends of Scott Foundation for over 10 years, she has sponsored and chaired numerous holiday events for the children as well as collected pajamas and gifts for Christmas. Most recently Acuña chaired the foundation's largest fundraiser, the Holidays with Hope/Viva Los Ninos event honoring Childhood Cancer Awareness month.
A specialist in residential properties in the San Diego coastal areas, from Point Loma and La Jolla to the surrounding communities, Acuña has consistently been awarded for her sales production and service. "I'm very grateful about the fact that I mainly work through referrals and that I've helped multiple generations of families," adds Acuña, who is fluent in Spanish, "so I travel wherever the interests of my clients should take me."
To learn more about the 'Karma Ride' events or to contact Rosamaria Acuña, call 619-890-2828, or email Acuña.Rosamaria@gmail.com.
Like what you see here? Sign up for more! Our free e-newsletter informs you of listings in your community, insider real estate tips, the latest in home trends, and more.