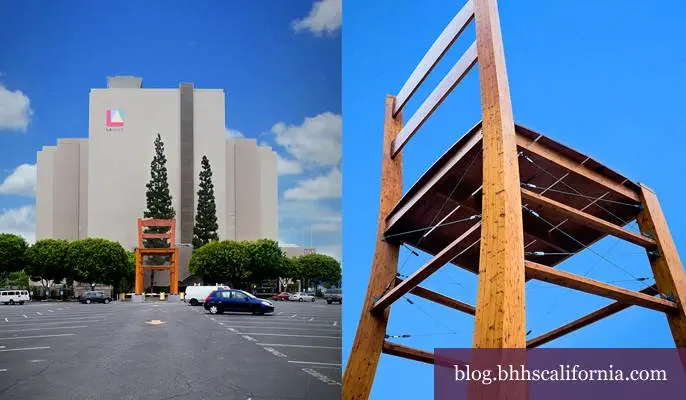 Unless they're prepared for it, those passing by the The REEF, the new name for the the LA Mart building, are greeted with a spectacle that at first seems unbelievable. Rising above the Los Angeles skyline is a 40-foot-tall, 24-ton chair that was once the largest chair in America.
Originally constructed by the Promosedia, an association of chair-table manufacturers in Manzano, Italy, for the 35th NeoCon world trade show in Chicago in 2003, the "Big Chair" now "sits" in the Mart's parking lot. This massive home and furniture store is open exclusively to customers in the furniture trade, so a massive chair that can be seen for miles around is probably the most fitting beacon ever conceived.

As gigantic as it is, it isn't the biggest chair in the world, or even the biggest in the United States. That honor goes to a rocking chair in Fanning, Missouri, on Route 66, that was constructed in 2008 and stands 2 feet taller than L.A.'s own at 42 feet.
The biggest in the world, however, is Italy's own 65-foot-tall chair in a traffic circle in Manzano. As fate would have it, it was built and is owned by Promosedia, whose ability to create and promote outsized home décor spans the globe.
So, the next time you're passing through Los Angeles, and want to see something you don't get to see every day, stop by the L.A. Merchandise Mart, 1933 S. Broadway. There's a great big chair there!
Like what you see here? Sign up for more! Our free e-newsletter informs you of listings in your community, insider real estate tips, the latest in home trends, and more.