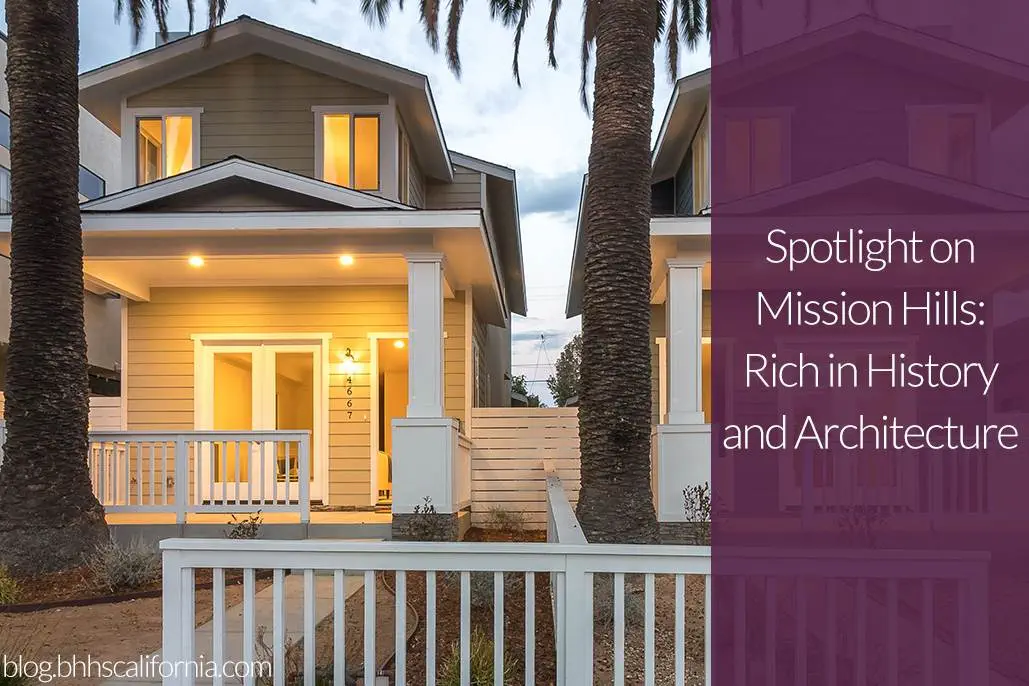 Filled with historical homes built by many of San Diego's pioneer families, tree-lined Mission Hills is situated on rolling hills overlooking Old Town, San Diego Bay, and downtown. Thanks to the area's elevated hilltop location, it enjoys cool summer breezes and moderate winter temperatures.
Few places in San Diego offer so many unique, architecturally significant, and beautifully maintained homes as Mission Hills, one of the city's more upscale, affluent metropolitan neighborhoods. The area was developed early in the last century, beginning in 1908. Most of the houses are from that era, often carefully preserved and restored. There are California bungalows, Craftsman homes, Spanish Revival, Mission-style, and many other one-of-a-kind residences. Many border lovely canyons lined with palm trees and native shrubs.
Historic houses and upscale condos
"On a short drive down most streets, you're likely to see homes designed by San Diego's foremost architects, including Irving Gill, William Hebbard, Richard Requa, and Joel E. Brown," said Brent Consedine, manager of our Mission Hills office. "Another building boom in the 1950s and '60s added more modern homes to the area, built by respected masters such as Lloyd Ruocco, Homer Delawie, and John Lloyd Wright. More recently. midrise upscale condo buildings and loft-style apartments have been constructed."
Kate Sessions, the renowned landscape artist of nearby Balboa Park, started Mission Hills Nursery in 1910, and it still functions as the center of the neighborhood. Washington and Goldfinch streets are the commercial center of the community, and provide residents with abundant shopping and services. Restaurants, cafes, and specialty retail shops offer an enticing variety of cuisine and products.
Our convenient office
"Our office is right in the middle of this very walkable area, and our agents take full advantage of that. Many of them live, work, and play in this area, know it well, and love to share their knowledge with people thinking of moving into the neighborhood."
If you're one of them, Brent provided some quick facts and figures about this very desirable community, home to many established families, civic leaders, and celebrities:
85% of residents have an annual household income of $100,000 or more
56% of residents are professionals or business owners
Two historic districts
Mission Hills contains two historic districts recognized by the city of San Diego, In addition, Mission Hills is part of a larger community often referred to as Metro or Uptown. It includes the communities of Hillcrest, Bankers Hill, University Heights, North Park, South Park, Normal Heights, and Kensington.
"Within a one-mile radius of our Mission Hills office are very diverse housing options ranging from 300-square-foot studios to more than 5,000-square-foot estates, with values from the mid-$200,000s to $5 million," Brent said.
Here are some real estate statistics Brent provided for each district:
Mission Hills:
Average home price: $1,120,000
Median home price: $989,000, up about 10% over last year
Price trends: Price increases in the area tend to outpace the average for the county and city
Average time homes are on the market:

Single-family: 40 days, up about 20% from last year
Condos and attached homes: 34 days, down about 22% from last year
Metro:
Average home price: $516,000
Median home price: $472,000
Price trends: Properties still tend to sell quickly in this area, especially those that need some updating and are therefore of interest to developers and "flippers." Prices tend to be leveling off a bit with fewer properties receiving multiple offers, and some appraisal issues keeping buyers from outbidding each other.
Average time homes are on the market: 20 days
Community growth
"For the Mission Hills area, growth has been limited mostly to remodeling of existing homes, with few multifamily projects planned," Brent said. "This lack of new housing opportunities, and the general desirability for the area, keep home prices high and rising.
"Metro growth has been relatively flat for the last decade, largely due to the lack of space to build new housing. But with the new construction opportunities that started when the economy began improving, new 'infill' projects and condo construction started appearing all over Metro, which will surely bring many more people into the area."
From suburban to urban 
Because many homes have been in the same family for generations, the demographic in Mission Hills tends toward older and "empty-nester" residents. But, Brent said, "Attend a free summer concert in Pioneer Park and you'll see lots of families coming together for picnics, and it seems most have kids in middle or elementary school. I also know of many owners who have traded their suburban homes for the beautiful architecture, walkability, and urban convenience of Mission Hills."
Because of the area's high desirability factor, the only way many people can move into area is to keep an eye out for resale homes when they come on the market, Brent said. Any of our Mission Hills agents can prove invaluable in helping buyers find that special home.
Something else to be aware of: Since many homes were originally built on lots with small setbacks, they only have a one-car garage, a carport, or no garage at all. That's a fact of life people who love living in Mission Hills are willing to accept, Brent said.
Neighborhood amenities
Education: There are no universities or colleges within the Metro/Uptown districts.

But the area known as University Heights is so named because it was home to San Diego's first "secondary school" (university), which became the San Diego Unified School District's offices when San Diego Normal School (now San Diego State University) opened in the farthest eastern part of the city in the 1897.
Mission Hills elementary schools include Grant (public, K-8), and Francis W. Parker (private, K-5).

Library: Mission Hills Branch Library, 925 W. Washington St., San Diego, CA 92103
Medical: Many medical offices are located throughout the area, including two nearby major hospitals:
Recreational opportunities
Cultural-rich Balboa Park and adjacent world-famous San Diego Zoo are located within the Uptown/Metro area
Old Town San Diego State Historic Park, site of California's first established city, sits at the bottom of the hills just west of Mission Hills
Overlooking Old Town with views of Mission Valley, the bay, and downtown San Diego, Presidio Park offers ample spaces for relaxing, picnicking, and walking
City planners are in the process of adding bike lanes; hourly bike rental kiosks can be found throughout the area, making it a great way to get around
Two unlighted tennis courts are free to the public across from Mission Hills Park
Grab a bite
Here are some of the innovative and very popular eateries Brent and his agents frequent, some just steps from the office:
Like what you've read? Brent and his agents are the Mission Hills neighborhood experts. Feel free to contact any of them for everything you want know to about this vibrant community.
Search for homes now, or take a look at homes that have been for sale in Mission Hills this year.
Like what you see here? Sign up for more! Our free e-newsletter informs you of listings in your community, insider real estate tips, the latest in home trends, and more.