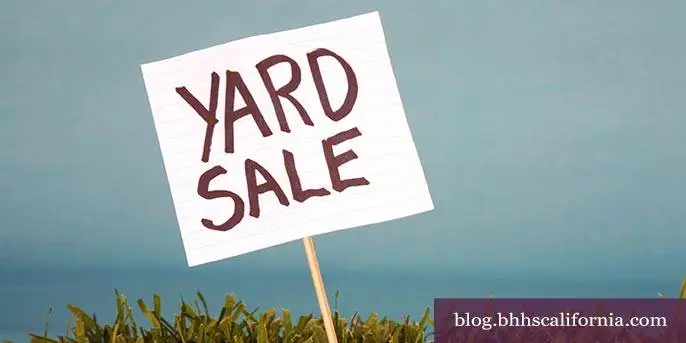 Everyone says they should get rid of their unwanted stuff by holding a yard sale. But not everyone wants to put in the time and effort.
Why not? You're organized at work. You see the right and wrong things others do at their yard/garage sales. With a little planning and organization, you can hold an appealing sale that will not only help de-clutter your space, but also bring in extra cash so you can buy something new or make improvements to your home!
Technology has made it easier than ever to promote and conduct your sale. Social media, smartphone and tablet apps, and wireless credit-card readers are just some of the ways to bring a sale into the 21st century.
We talked to some yard sale veterans on both sides of the cash box, and searched the web to come up with tips on how to prepare for and conduct a sale. If you try them, or come up with any new approaches for your next sale, share your experiences in the comment section below.

Planning the sale
Most yard/garage sales are held on Saturdays and Sundays, but larger ones can stretch from Thursday to Sunday. Check the calendar to make sure there are no conflicting holidays or sporting events that might keep people away, like Labor Day or the Super Bowl.
Mark every item with a price. Use labels, masking tape, markers – anything to make the price stand out. If you want to sell a lot of things at the same price – old tools, for example – group them in a box or set them on a table with a sign: $2 Each! Make buyers feel like they're getting a bargain, and prepare to offer discounts on batches of items.
Invest in or rent sturdy folding tables for displaying items at a level where people can pick up, hold, and inspect them. Blankets on the ground are OK, but not everyone wants to stoop down to look.
Offer specials: On old CDs or any items you really want to get rid of, you can put a sign: $2 Each. 3 for $5. 5 for $7.
Put "big ticket" items like flat-screen TVs and DVD players near the front of the sale to draw people in.
Park you car(s) away from the front of your home. Try to leave parking spaces so potential buyers don't just drive by if they don't see a spot.
Make or buy signs pointing the way to your home. Keep the address and hours large and legible, so anyone driving by at 25 miles per hour or faster can read them.
Don't violate any local sign ordinances. Most cities will look the other way for a while if you post a sign illegally, but be sure to remove all signs daily, and once the sale is finished. One sale-holder we talked to saw a utilities-truck driver pulling his signs off telephone poles about an hour before the sale ended. He caught up with the driver, who told him not to do it again or risk a fine.
Check to see if the city or county you live in requires that you collect taxes on any items you sell. This is usually required only of licensed businesses, such as those that conduct estate sales. But it doesn't hurt to find out.
Marketing the sale
This is where you can get really creative. Lots of people use the "garage sale" category on Craigslist to post details about their sale, along with photos. It's free and a great way to attract regular yard sale shoppers. But here are some other modern ways to create a buzz about your upcoming sale:
Create a Facebook page about your event, or put all the details on your existing Facebook page. You want as many of your friends and family to know about it as possible, and they can help spread the word by merely liking your posts about the sale.
If you have a Twitter account, promote the sale through announcements and updates. Keep your followers apprised of new items you've added, prices you've lowered, and other news that could motivate them to drop by.
Go all out and create a YouTube video showcasing all the cool items you're putting up for sale. Keep it short and punchy, highlighting your top items, but not overlooking the smaller ones. Mention prices or price ranges, and a little about any special items, like a collection of old typewriters.
Be sure to include links to your Facebook, Twitter, YouTube, and other online sources in all of your Craigslist ads, as well as in any flyers, handouts, or other promotional materials you create.
If you have a lot of valuable items (or even if you don't), consider not posting the sale address on Craigslist until the morning of the event. This can help keep unwanted visitors from "casing" your home.
Have cash ready for making change, and keep it well-secured. Always have another trusted person keep an eye on it when you can't. Consider using a free Square Reader with your smartphone or tablet so you can accept credit cards. There's a small per-transaction fee, but it could be worth it if you're selling expensive items to anyone who shows up without a lot of cash. If you and the buyer have PayPal accounts, you can accept funds through the online service, which also might charge a small fee.
Day of sale
Have all items set up, priced, and ready to go even before your advertised opening (usually 8 a.m.). You'll be surprised how many people show up early and expect to be given first dibs.
If you have furniture or larger items for sale, but don't want to let just anyone inside your home to see them, post photos and descriptions on a table or wall. Or set up your tablet or digital photo frame to display a slideshow of those items.
Set out a box of free stuff. Mark it, "FREE! Take it now–going to charity after sale." People love to get something for nothing, so this box will help draw them in. Mention the box in all your marketing materials as well.
Provide free ice water, lemonade, soft drinks, snacks, and anything else that won't break your budget. Buyers will appreciate your hospitality and might be more inclined to buy from you instead of the yard sale around the corner.
Be prepared to negotiate. Do you really want to hold out for another dollar on that three-legged stool, or do you want to reclaim the space it took up in the garage? People who approach you with money in their fists are eager to buy, so seize the opportunity.
For your next sale
Talk to your neighbors about a community garage sale. Entire neighborhoods sometimes have sales, with everyone pitching in to promote it. If you live in a condo complex, make sure it's OK with the homeowners association, who might even help tell all residents about it. Local real estate agents often sponsor these events, and offer free maps to anyone who stops by their office. It's a two way street for sales – literally.
To really get pumped up, plan a visit next year to the world's longest yard sale.
Like what you see here? Sign up for more! Our free e-newsletter informs you of listings in your community, insider real estate tips, the latest in home trends, and more.