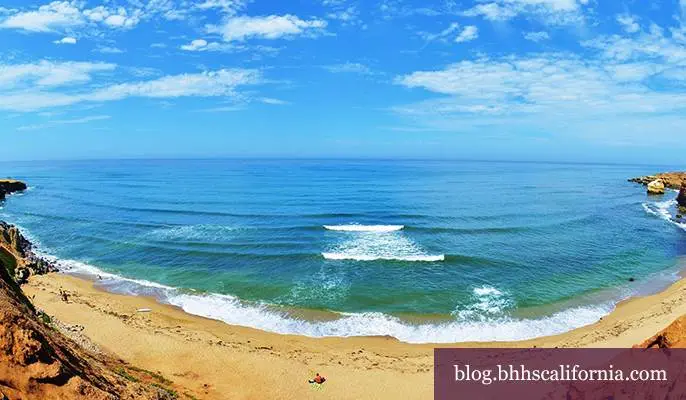 Author: Rosamaria Acuña
Sunset Cliffs Natural Park, a 68-acre resource-based park stretching one and a half miles along the Pacific shoreline on the western edge of Point Loma, is perhaps one of San Diego's best-kept secrets.
The 18-acre "linear section" of the park follows Sunset Cliffs Boulevard from Adair Street along the coastal bluffs past landmarks such as Cormorant Rock to Ladera Street. Along the way are several parking areas that show off breathtaking ocean views, carved coastal bluffs, arches, and sea caves. Flocks of pelicans soar along the bluffs, and California gray whales can often be seen during their annual migration to Baja California. The spectacular sunset views give the area its name. But the park is more than just grand vistas.

Enter the main "hillside park" at the Ladera street parking lot. This 50-acre section is a designated multiple-species conservation area. Just south of the lot is a two-acre native-plant garden with more than 50 species of cactuses, succulents, shrubs, and a number of Torrey pine trees that have been added since a restoration effort started in 2005.
Local resident David Kimball, a member of the Sunset Cliffs Natural Park Council, leads the native-plant garden project. He organizes and supervises volunteers, including students from nearby Point Loma Nazarene University, who assist in planting and maintaining the native garden.
At their peak in April, many of the early-flowering plants are in bloom, along with others that will progressively bloom into the fall. Take a stroll to enjoy their beauty as well as observe the many birds and other small animals that flourish in the natural habitat. While you can travel all over the world in search of beauty, this natural park is truly a wondrous place, right in our backyard.
To learn more, visit www.sunsetcliffs.info.
Like what you see here? Sign up for more! Our free e-newsletter informs you of listings in your community, insider real estate tips, the latest in home trends, and more.