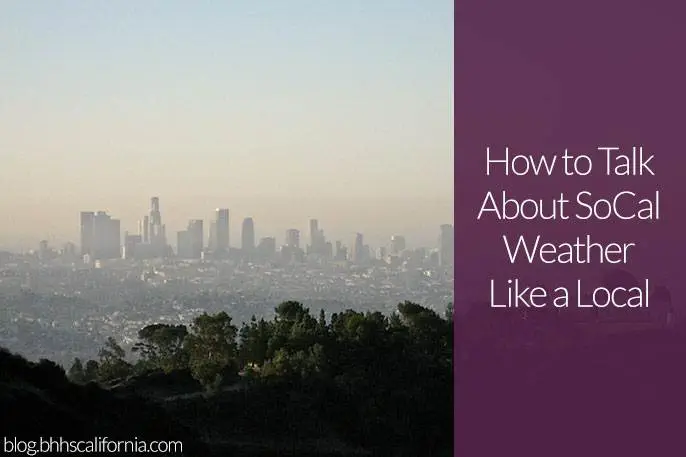 Are you ready for coastal eddy? Has Santa Ana curled your hair? Is May gray making you blue?
If you live in Southern California, chances are good your life has been affected by these and other weather phenomena. You might not know all of them by name, but doing so boosts your weather IQ and makes you sound like a true local.
With June gloom just around the corner, we looked up some common and lesser-known weather terms to enlighten you about our Mediterranean-like climate. Drop them at your next get-together to impress friends and family with your weather wizardry.
Santa Ana winds
Strong, extremely dry downslope winds that originate inland and affect coastal Southern California as well as northern Baja California. Santa Anas blow mostly in autumn and winter, but can pick up at other times of the year. They're especially known for the hot dry weather–often the hottest of the year–they bring in the fall, and are notorious for fanning regional wildfires. For obvious reasons, they're also called "devil winds."
Perhaps the most famous description of Santa Ana winds was penned in 1946 by crime novelist Raymond Chandler in the opening paragraph of "Red Wind":
"There was a desert wind blowing that night. It was one of those hot dry Santa Anas that come down through the mountain passes and curl your hair and make your nerves jump and your skin itch. On nights like that every booze party ends in a fight. Meek little wives feel the edge of the carving knife and study their husbands' necks. Anything can happen. You can even get a full glass of beer at a cocktail lounge."
Coastal eddy
Too foggy for you? Blame the recurring Southern California weather phenomenon known as the coastal (or Catalina) eddy, a swirling, circular cloud pattern off the coast of San Diego. Coastal eddies can bring cooler weather, fog, and better air quality into Southern California as they push the marine boundary layer further inland. The eddy patterns can stretch 60 to 120 miles and last from a few hours to a few days, most often forming between April and October, and hitting their peak in June.
                                                             Coastal Eddy
May gray/June gloom
During these months, gloom often darkens the coastal skies with a layer of marine clouds that form a continuous horizontal gray sheet, often with rain or snow. Coastal clouds may remain all day, but often give way to some hazy afternoon sunshine. The number of overcast days during this period varies from year to year.
Atmospheric river
When these long plumes of moisture from the tropics or subtropics move into higher latitudes, they're capable of blasting a firehose of rain and creating hazardous conditions, including flooding and landslides, due to such a large amount of rain over a short period of time. An atmospheric river originating near the Hawaiian Islands is known as a Pineapple Express or Pineapple Connection.
Green flash
Legendary in San Diego, the phenomenon was described by a British researcher in 1869 as occurring "at the moment of the departure of the sun below the horizon, the last glimpse is coloured bluish green." Almost nightly, San Diego beachgoers gather at the Pacific's edge to catch a glimpse of the elusive flash. It is best seen from a few feet above sea level, and becomes compressed to a thin line at the horizon when seen from considerable heights. Blink and you'll miss it.
                                                            Green Flash
Pink moment
The town of Ojai in Ventura County offers this memorable experience for tourists and locals alike. The Pink moment is the special time when the sun goes down and the Ojai Valley becomes bathed in muted tones of pink, lavender, and peach. One of the best ways to see the spectacle is by taking a jeep tour high into the mountains behind Ojai.
Southwest monsoon
A summer wind-flow pattern where air with high water vapor content, coming from the Gulf of Mexico, the Gulf of California, or the tropical Pacific south of mainland Mexico, reaches the desert Southwest. It briefly extends to the California coast, resulting in scattered showers and thunderstorms.
Sundowner winds
A type of offshore flow pattern that occurs in coastal Santa Barbara County when strong winds from the northwest or north occur, producing a brief period of significantly warm, dry weather. These winds typically occur during late-afternoon or early-evening, thus the name "sundowner."
El Niño/La Niña
El Niño occurs when Pacific waters become unusually warm. This usually happens in the winter, and has a major effect on weather patterns. In Southern California, that can mean a wetter winter. In the past, our region has experienced torrential downpours and mudslides as a result of El Niño. However, no two El Niño events are the same, and how we will be affected can't be fully predicted.
La Niña is described as cooler-than-normal sea-surface temperatures in the central and eastern Pacific, near the equator off the west coast of South America. El Niño is like La Niña's brother–the totally opposite and attention-grabbing brother. La Niña triggers atmospheric changes that generally favor below-average precipitation and above-average temperatures in the southern band of the U.S. That can be bad news for Southern California, which could miss the winter's El Niño rains that help ease the drought in much of California.
Like what you see here? Sign up for more! Our free e-newsletter informs you of listings in your community, insider real estate tips, the latest in home trends, and more.