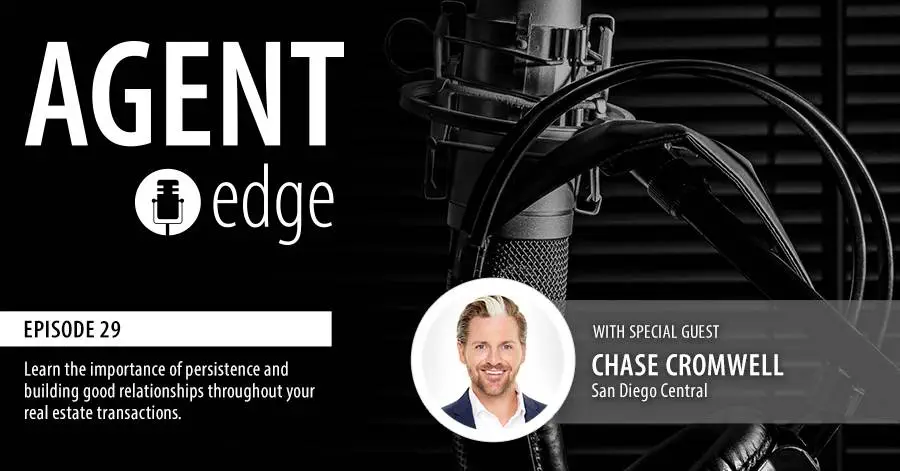 Welcome to The Agent Edge: Episode 29 with Chase Cromwell
In this podcast episode, we are joined by Chase Cromwell, an agent working out of our San Diego Central office.
From being involved in sports at a young age, to holding four jobs at once, to growing up watching his father work hard for his family, Chase has learned the value of hard work and heart from a young age. He strives to be the best at everything and show integrity in every job he is tasked with. Even when working 4 jobs to support his family, he never did any job halfway – even if that meant taking a little bit longer to finish the job.
Chase has built his business on ambition, persistence, and hard work – values he holds near his heart because they are what got him to where he is today. By staying alert, being on top of his tasks, and being available 24/7, Chase continues to build a business and a life on solid relationships with his clients and friends. He believes that relationships are key not only in the real estate business but also in life.
You'll also learn
Why Chase refuses to slow down even after all the struggles he faced at the beginning of his career and why that helped him believe in the power of momentum.
How Chase used his sphere to his advantage while he worked many different jobs at the beginning of his career.
What Chase's social media strategies were in the beginning stages of his business to what he currently does on social media to help his business.
The importance of persistence and building good relationships throughout your real estate transactions.
Links and resources mentioned in this episode
Thank you for joining us for another episode of The Agent Edge! We'd love to hear your feedback about this podcast. Leave us a note in the comment section below or leave a review on your favorite podcast player.
Don't miss an episode! Subscribe to the show on iTunes or your favorite streaming platform and follow The Agent Edge on Facebook and Instagram. 
Like what you see here? Sign up for more! Our free e-newsletter informs you of listings in your community, insider real estate tips, the latest in home trends, and more.