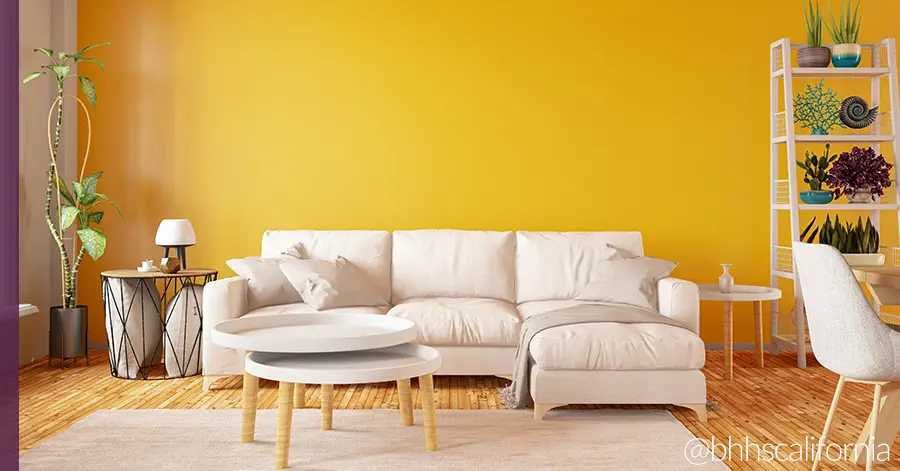 When it comes to color, everyone has different opinions on how it should be brought into the home. Whether you prefer a maximalist or minimalist style, eclectic or intentional design, every home could use a splash or more of vibrant color. In fact, the long-popular neutral palette trend may be stepping aside to let bright and bold color take the stage.
If you're ready to embrace a more vibrant home, we suggest picking a color you love and pairing it with a complementary neutral. This balance of bright and muted will help your home maintain a sophisticated look, while still adding tons of visual interest.
In each room, decide where the focal point will be and what kind of impact you want to make. If you want bold walls, keep your furniture neutral. If you opt for a bold couch, incorporate that color throughout the room, but keep the walls neutral. Whether you want a full room refresh, or simply want to test a new vibrant color in your space, you can always begin by adding chic accent décor or furniture before you go all in.
Below, we are recommending five vibrant colors for home design that are always trending, plus how you can bring them in your home. These show-stopping colors are sure to grab attention, no matter what your personal style is.
Green
Green is definitely a head-turning color when introduced to your home. It also adds a mid-century modern touch that many people appreciate. To pull off green in your home, we love emerald or lime hues. Green is excellent as an accent wall in your dining room, guest bedroom, or even your front door. Keep the rest of the colors and décor sophisticated with muted tones to let the green pop and take full effect.
Yellow
Yellow is known to enhance or clarify your thoughts and can instantly cheer up anyone who walks into a room. This is a color we would recommend going all-in on, with wall-to-wall paint or wallpaper, eye-catching wall art, accent chairs, or even a cool, retro lamp.
Navy
While it may seem like one of the "safer" colors on this list, navy is a popular bold color for furniture. In your living room, pair a navy sectional or accent love seat with leather chairs for a minimalist touch that makes a big impact.
Crimson
Crimson is a color we love to see around the home due to its rich hue. Finish off any room with crimson details such as table frames, candles, dishes, towels, or even throw pillows.
Orange
Orange is said to expand your thinking and is even believed to reduce self-consciousness. When used correctly, shades of orange allow you to express yourself more freely without being too overwhelming. Even a more modest approach to orange, such as accent pieces in the form of a vase, accent chair, or coffee table book, can make a huge impact on any space.
Ready to bring some vibrant colors into your home?
Let us know which color(s) you choose in the comments!
Sources: Better Homes & Gardens, The Spruce, Elle Decor
Like what you see here? Sign up for more! Our free e-newsletter informs you of listings in your community, insider real estate tips, the latest in home trends, and more.