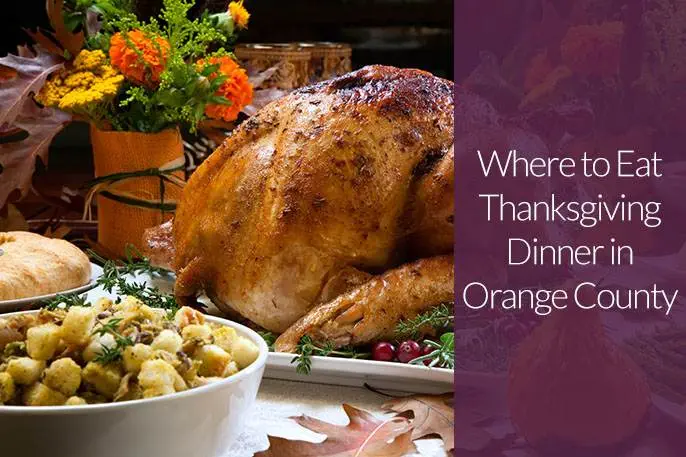 Thanksgiving should be a time spent with friends and family, not full of stress and hard work. If you spent last Thanksgiving hard at work cooking, cleaning, and presenting, consider taking this year off and dining out instead. 
If you live in or will be visiting Orange County, here are five restaurants that are serving delicious Thanksgiving dinners on November 24.
Fleming's Prime Steakhouse & Wine Bar has several locations around the country, however the location in Newport Beach was the very first one to open its doors. Their vision: create a unique steakhouse experience with an emphasis on generous hospitality, and inviting atmosphere, and the very finest of foods.
Though their Thanksgiving meal features traditional items like turkey, stuffing, and pumpkin cheesecake, their entire dinner menu will also be available in case you get the craving for a Fleming's steak.
Price: $39.95 per adult, $19.95 per child
RSVP: 949.720.9633
Address: 455 Newport Center Drive, Newport Beach, California 92660
---
If you're looking for a more magical experience on Thanksgiving, consider dining at Napa Rose, a fine dining restaurant hidden inside Disney's Grand Californian Hotel.
The exquisite and unparalleled dinner experience will be one that you and your guests remember for years to come.
Price: $120 per adult, $25 per child
RSVP: 714.300.7170
Seating Times: 4, 4:30, 5, 5:30, 6, 6:30, 7, and 7:30 p.m.
Address: 1600 S. Disneyland Drive, Anaheim, California 92802
---
Sapphire's Thanksgiving menu had our mouths watering and our stomachs ready for Thursday. The menu combines traditional options like turkey, butternut squash, and creamy mashed potatoes, but also includes options like pan seared salmon and basmati rice filled eggplant.
RSVP: 949.715.9888
Address: 1200 South Coast Highway, Laguna Beach, California 92651
---
With a menu that is globally influenced and ingredients that are domestically sourced, Three Seventy Common is preparing a unique meal this Thanksgiving. Their 3-course feast offers the choice of a warmed winter greens salad or sweet potato chowder, followed by a choice of roasted turkey or grilled pork loin. Sides include mashed potatoes, brussels sprouts and candied yams. Finish the meal off on a sweet note with pumpkin pie or bourbon apple pie. Yum!
Price: $52 per adult, $26 per child
RSVP: 949.494.8686
Address: 370 Glenneyre Street, Laguna Beach, California 92651
---
The Winery Restaurant & Wine Bar gets its name from its wine list, which currently offers 650 selections and a wide range of wines from around the world. This Thanksgiving, enjoy a 3-course meal and the perfect glass of wine to go with it. Some options include Scottish smoked salmon, pumpkin and ricotta ravioli, jumbo shrimp, flatiron steak, and of course, maple glazed turkey.
Price: $59.95 per person
RSVP: 949.999.6622
Address: 3131 W. Pacific Coast Highway, Newport Beach, CA 92663
Like what you see here? Sign up for more! Our free e-newsletter informs you of listings in your community, insider real estate tips, the latest in home trends, and more.