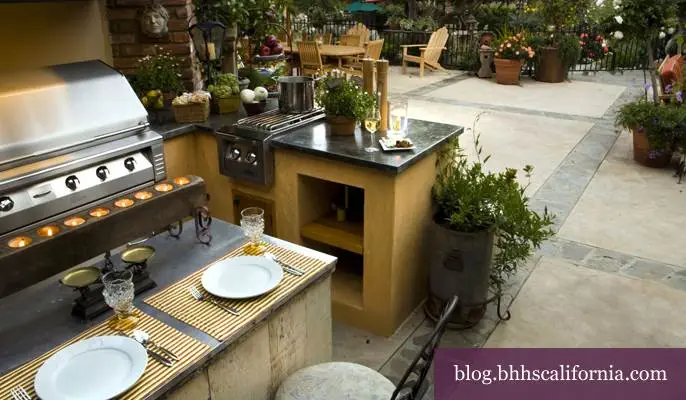 Southern Californians can dine outdoors at home pretty much all year long. But now more of us are skipping the back-and-forth trip between the indoor kitchen and the patio by adding another kitchen outside.
The concept isn't new, but outdoor chefs now cook, grill and bake with the latest in all-weather products, from pizza ovens to chilled wine racks to steam-spraying cleaning brushes. Stainless-steel cabinets, standard-size refrigerators and freezers, gas ovens, marble countertops, trash compactors and, of course, the kitchen sink, have all made their way outside for good.
Regulations covering electrical, gas and water lines vary from city to city, so it's smart to check with the permitting department or a licensed contractor before considering your own outdoor kitchen. Large home-improvement centers offer most of the components, which have become sturdier and often less expensive in recent years. They can be installed by do-it-yourselfers or professionals. Add a dining area, a second patio slab, and a roof to shield everything from the elements, and you're really cookin'.

Here are some of the items showing up in today's well-equipped outdoor kitchen:
Gas grill: Not so long ago, a top-of-the-line, 30-inch-wide gas grill with two 12,000-BTU burners and side extension shelves for holding condiment cost about $2,000. Today, the same grill might have 12-stainless-steel, 42,000-BTU burners with variable temperature control, side burners for boiling water and heating sauces, electronic ignition, a warming rack, and a built-in infrared searing grill, all for under $1,600.
Multi-fuel grill: A stainless-steel model that runs on gas, charcoal, infrared or wood, and comes with rotisserie, cabinet and storage space, sells for about $5,000.
Warming drawers, deep fryers, icemakers: All are available as UL-listed specifically for outdoor use.
Clip-on fluorescent light: Battery-powered and made of stainless steel, it attaches to the side tray of an outdoor grill. The gooseneck twists to any angle, providing up to three hours of continuous nighttime illumination.
One specialist says a typical 10-foot-long outdoor kitchens costs about twice that of an indoor kitchen, or about $15,000 to $20,000. But you can start adding slowly and create your outdoor kitchen when weather permits. And in sunny Southern California, there's plenty of time for that.
Like what you see here? Sign up for more! Our free e-newsletter informs you of listings in your community, insider real estate tips, the latest in home trends, and more.