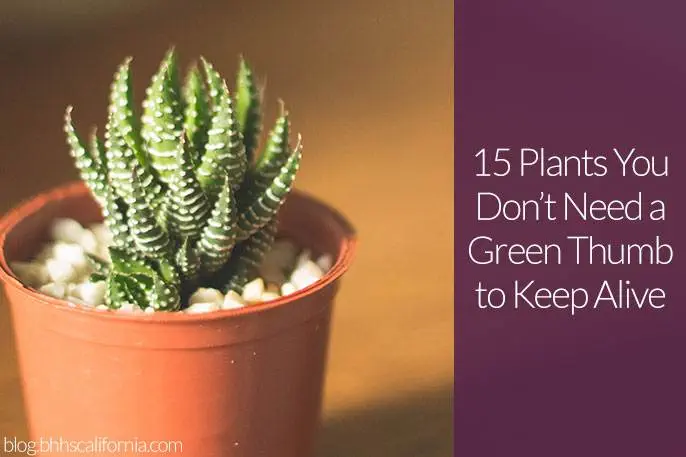 Low-maintenance plants and flowers are perfect for those of us who can't seem to keep our house plants, office plants, and gardens alive.
If you suffer from a brown thumb, it's possible that you may have already given up. But we're here to tell you that you shouldn't and that there's an easier way to bring some greenery into your life.
If you're still not convinced to try yet again, remember that house plants and gardens are extremely beneficial to your health, both mental and physical, the environment, and more.
Having plants in your home and office can reduce stress, improve air quality, and even reduce background noise.
Gardening is great because it gets you outside in the sunlight and is surprisingly physical work. Planting bird- and bee-friendly gardens also promotes a healthy environment.
Now that we've convinced you on the benefits of nurturing your own plants, it's time to check out your best options for keeping them alive.
Indoor Plants You Can't Kill
If your home has pets, be sure to check which plants are safe for cats and dogs.
Aloe
Not only is aloe an easy to care for plant, it also has amazing soothing properties. It is easy to extract the aloe vera gel, which can be used on cuts and burns. Let the soil dry completely in between waterings.
Air Plants
These plants are unique because they do not require soil to grow or survive. They are one of the easiest indoor plants to keep alive and can be used in a variety of displays. Mist them with water once a week or soak them in room temperature water every few weeks for about a half hour.
Snake Plant
Since the snake plant is a succulent, ignoring it is one of the best things that you can do. Watering it weekly is best, however, if you forget every now and then don't feel bad–it probably forgot too.
Bromeliads
You'll want to place these brightly colored plants in bright light for them to really flourish. To water, fill the "cup" that the leaves grow around at the base and be sure to empty out water collected in the pot weekly.
Jade
Another member of the succulent family, jade plants are definitely low maintenance and fairly resilient. Keep their soil moist, but not damp, and be careful to not splash their leaves. Place them in a spot where they won't get excessive amounts of sunlight each day.
Pothos
This fast-growing plant is easy to care for because they do well in a variety of environments. Whether they are placed in bright light or low light, nutrient-rich or nutrient-poor soil, they don't seem to mind. Just keep them out of direct sunlight and they'll make a great addition to your home or office.
Spider Plant
Spider plants require moderate amounts of water and need a bit more attention during spring and summer months. You'll want to keep the soil moist and fertilize in spring and summer.
Cactus
Add cactus plants to your sun-filled rooms and windowsills. Because they store water, they don't require it too often, making them perfect for the forgetful plant mom or dad.
Low-Maintenance Plants for Your Garden
Coneflower
Known for attracting birds, bees, and butterflies, coneflowers are extremely low maintenance and can thrive in full sun or partial shade.
Daylily
Colorful and found in a wide variety of shapes and sizes, daylilies are tougher than they look. Flood? No problem! Drought? Don't sweat it. Even salt can't bring these beauties down. Plant and enjoy.
Hens and Chicks
Succulents have the reputation of being hard to kill, but overwatering can be deadly to this perennial. Add them to your drought-tolerant garden and don't give them too much attention.
Yarrow
Said to survive on "benign neglect," these flowers are heat- and drought-tolerant, plus add tons of color to your yard.
Zinnia
Heat-, drought-, and disease-resistant, zinnia are hard to kill, although we're sure you might (accidentally) try.
Yucca
This plant is about as drought-tolerant as they come, making it perfect for Southern California's typically dry climate.
Sparkler Sedge
Preferring partial or full shade and moist soil, these eye-catching plants grow quickly without becoming invasive.
Like what you see here? Sign up for more! Our free e-newsletter informs you of listings in your community, insider real estate tips, the latest in home trends, and more.