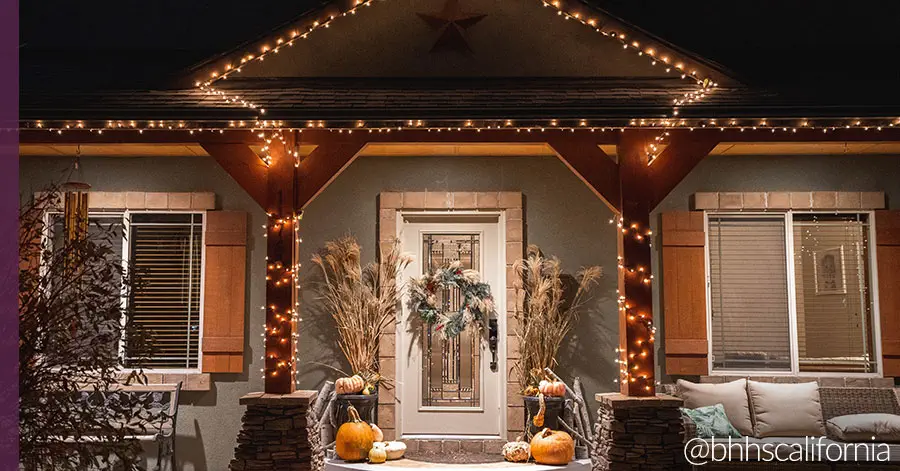 The holiday season is upon us. The weather's getting cooler, and holiday parties will be happening before you know it.
If your household loves getting in the holiday spirit, you will likely be decorating your home indoors and out. To get you started, our partners at American Home Shield are sharing their top eight tips for outdoor holiday decorating.
1. Choose a focal point
Many homeowners choose their front porch or even their front door as a focal point, drawing attention to it with a nice wreath, some lights strung around the railing and perhaps an artificial outdoor tree or two.
2. Keep it simple
Start small, especially if you've never decorated the exterior of a home for the holidays before. 
3. Buy the right lights for your needs
There are net lights for bushes, rope lights for illuminating windows, blinking lights, multicolored lights, icicle lights and various kinds of LED lights. 
4. Shop secondhand
Buy used and vintage wreaths, statues, nativity scenes and other items of holiday décor for a fraction of the retail price.
5. Play it safe
Not sure about getting up on the ladder to string lights along the gutters and around windows? Hire someone to do it, or skip it altogether.
6. Ditch the staple gun
Electrical tape is a safe, quick, and easy alternative that won't damage your siding, shingles or fingers. 
7. Start at the bottom
When decorating something tall for Christmas, such as a large tree, start at the bottom and work your way up. Use a dowel rod staked into the soil to hold an extension cord for powering your lights, and work with the lights illuminated so you can get a better sense of how the finished product will look.
8. Decorate smart
Save yourself some effort and expense and only decorate parts of the yard that people will see.
Need more holiday hosting and decorating tips? Read our top hosting tips for the holidays.
Like what you see here? Sign up for more! Our free e-newsletter informs you of listings in your community, insider real estate tips, the latest in home trends, and more.