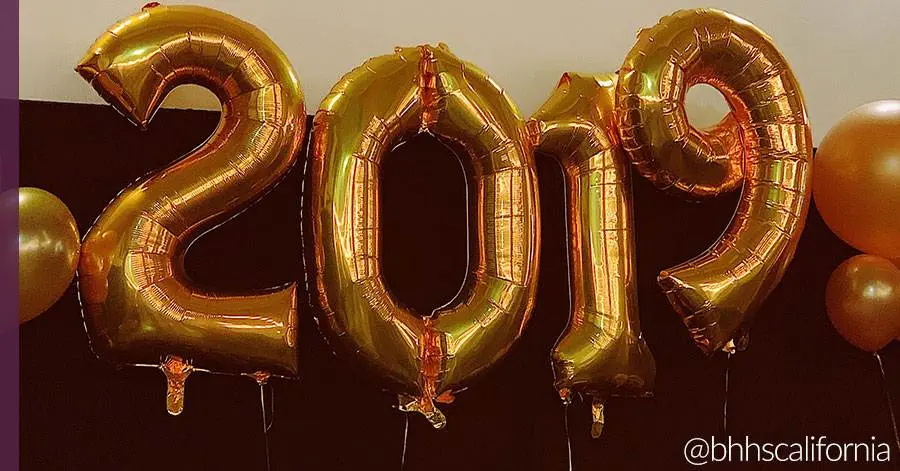 It's that time of year again: The time when you commit to exercising more, eating healthier, being kinder, and all those other pledges that may or may not come to pass. However, there are some resolutions that are easier to keep than others when it comes to your home.
Inside and out, it shouldn't take too much time to make sure your home is in tiptop shape. 
Here are just a few things you can resolve to do this year that will have you feeling accomplished and ready to tackle your next project. And, if you aren't a homeowner yet, we've thrown in a few resolutions that might get you motivated to become one.
Aircheck
Modern air conditioners and furnaces typically need inspections once a year. Your utility company might provide a free furnace checkup, especially for gas units. Either way, it's worth it to have a professional check them out to avoid future issues. Air conditioners collect dust and debris over time, which can reduce your unit's efficiency. It's easy to inspect filters to look for buildup, and replacing them is usually as easy as lifting the filter door, removing the old filter, and sliding in a new one. Check them for dust and other particles at least every three months.
Look for leaks
It might start with a drip, but water leaks can lead to major damage. Checking your home's water meter for plumbing leaks can help detect and avoid a flood of issues. To do it yourself:
Make sure no water is being used inside or outside, including lawn and garden irrigation, toilets, washing machines, dishwashers, faucets, icemakers, and automatic backflow cleaning in whole-house water filters.
Open the cover on the water meter at the street or side of the house to see if it has a flow indicator. This small, rotating wheel on the meter can detect even small amounts of water flow.
If the flow indicator is moving, you have a leak somewhere in your house or yard. Get it checked by a professional.
Don't forget the loo
If you're up for it, check toilets for leaks as well. There are two ways to do it:
Method 1: Remove the tank lid, and pour in a small amount of food coloring to color the water in the tank. If colored water appears in the bowl without flushing the toilet, it indicates water leaking between the tank and bowl.
Method 2: Turn off the water to the toilet at the shutoff valve. Remove the tank lid and note or mark the water level in the tank. Wait a few hours or overnight without flushing the toilet, then check the water level in the tank. If it's is lower, there's a leak between the tank and bowl. You might want to call a plumber.
Paint a room or two
Painting a room is among the most common do-it-yourself projects. It can not only brighten your home but also your mood if done right. If it's been awhile, here is the right order to follow:
Prep: Clean surfaces and repair any defects.
Prime: Where needed, prime the walls and trim.
Caulk: Fill any gaps or cracks with caulk.
Ceiling: Paint ceiling first to prevent drips on walls.
Walls: Apply paint to walls using a roller.
Trim: Paint trim last to avoid roller splatter.
Cleanup: Clean brushes and rollers, remove dropcloths, replace furnishings.
Get (re)-organized
Face it: You've probably got more than you need in your closets, kitchen, attic, and garage. Take time to get rid of unnecessary, unused, or useless belongings and reorganize. Set aside the same time every day or two if you can't tackle it all at once. The first step is to throw away all the things you don't need. You might be surprised at how much you can do without, and if you haven't used something in six months to a year, you probably don't need it.
Here are some organization ideas to get you started:
Kitchen: Add shelves or baskets to the pantry for cans, use hooks to hold rolls of sheet goods, storage containers for items like plastic bags.
Closets: If you have the space for it, add some shelves to increase storage options.
Entertainment center: Install shelves or add storage boxes to hold the cable box, DVD, and other components.
Attic: Install shelving for storage containers and consider adding hanging rods for out-of-season clothing.
Not a homeowner? Resolve to be one
Attaining the American dream of homeownership is a great resolution. You don't need a 20 percent down payment anymore, in most cases. They can start as low as 3 percent, depending on the type of loan. Plus, even though closing costs can run between 2.5 and 5 percent of the total cost of the home, they can be built into your monthly mortgage payment.
If you are a first-time homebuyer, don't be discouraged and follow these guidelines:
Avoid opening new credit accounts and making major purchases. Opening new credit cards, buying a car, and increasing credit card balances can have a significant impact on your credit score and affect your loan considerations. Basically, keep your debts as low as possible.
Know your credit score. The credit score that mortgage companies use to make a credit decision determines which loan programs and the interest rate you will qualify for. Knowing what your score is and how you might improve it can help to save you a significant amount of money.
Avoid using free credit score services offered from credit card companies and online vendors. These are not the same scores that a mortgage company use since they are derived using a different risk analyzer.
Some mortgage lenders can do a "soft" pull with no impact on your score by using just the last four digits of your social security number. This is a great benefit in the early house-hunting stages, so ask your lender if they offer this. A "hard" pull can negatively affect your score, so try to avoid providing your full social security number to limit the amount of "hard" pulls you have done to protect your credit score.
Get pre-approved for a home loan. A pre-approval tells you the price range you can afford and helps in working out a negotiation strategy with your agent.
Gather necessary financial documents. Add strength to your pre-approval by making sure you are prepared to provide your financial documents if requested. Sellers and their agents often ask if income and asset documents were verified as part of the pre-approval process.
Watch interest rates. Rates have been rising over the past year and are projected to keep rising in 2019. Look for a lender that will let you lock in a rate prior to finding a home, and that offers a rate lock with a "float down" so if rates should fall, you'll get the lower rate.
What are your New Year's resolutions? Talk to one of our experienced real estate agents today for home selling and buying advice. 
Like what you see here? Sign up for more! Our free e-newsletter informs you of listings in your community, insider real estate tips, the latest in home trends, and more.