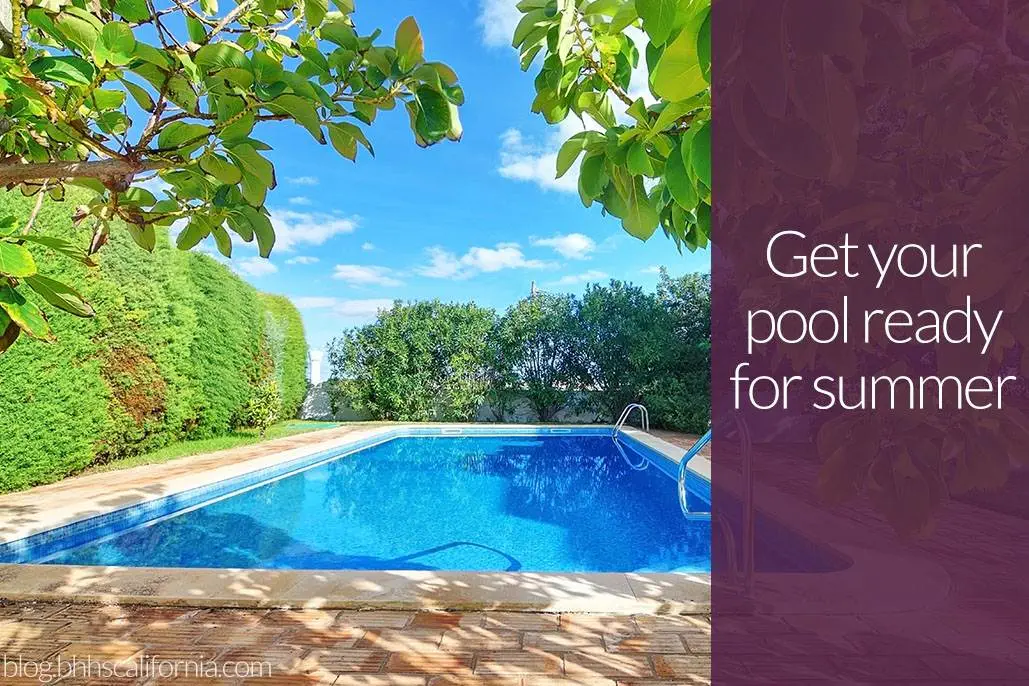 Summer is just around the corner, which means it's time to start thinking about preparing your pool for those warm, sunny Southern California afternoons. Since the weather is so mild during winter, you likely did not empty your pool–but have you kept up with your maintenance projects? If not, don't wait another day! Now is the perfect time to start preparing your pool for the first big splash of the season.

Assess your supplies
Start the process by taking inventory. Do you have everything you need to get your pool ready? Pull everything out and make sure it is in working condition. Replace anything that's broken or not working properly. Common supplies include a telescopic pole, skimmer head, vacuum head and hose, and pool brush.
Clean your pool
If you haven't cleaned your pool in a while, now is the time. You can hire a professional for this task, or take a do-it-yourself approach. If you're cleaning on your own, be sure you have a filtration system installed, clean out all baskets, and remove any plugs. Don't forget to clean the outside of your pool as well. Vacuum up any debris, clean the area around the pool, and wash your pool cover if necessary.
Check your water levels
Your water levels may have fallen during the winter months. Fill your pool to an adequate level to ensure all systems are running smoothly.
Test and balance
Once your pool is cleaned and filled, bring a professional out to take a sample of your water. A pool pro can give you an idea of the total alkalinity, pH, and chlorine levels. If adjustments are needed, a professional is the best person to make a recommendation on how to balance out your chemicals.
Allow time for adjustment
After you've added chemicals to balance the water, give your pool a few days to adjust. This can take up to a week for the entire process to be complete. You'll want to let the chemicals adjust and the filter to clear the water. Once your water looks clear, it's safe to swim.
Plan ahead for safety
You may be ready to swim, but are you ready for an accident? Make sure you're prepared for any poolside mishaps. Have a first-aid kit fully stocked and within easy reach. Remove any hazards from around the pool to prevent potential accidents. Assess how easy your pool is to access. If needed, secure your pool with a gate and latch to prevent accidents while you are away from home.
Once your pool is cleaned and secured, jump in!
Like what you see here? Sign up for more! Our free e-newsletter informs you of listings in your community, insider real estate tips, the latest in home trends, and more.