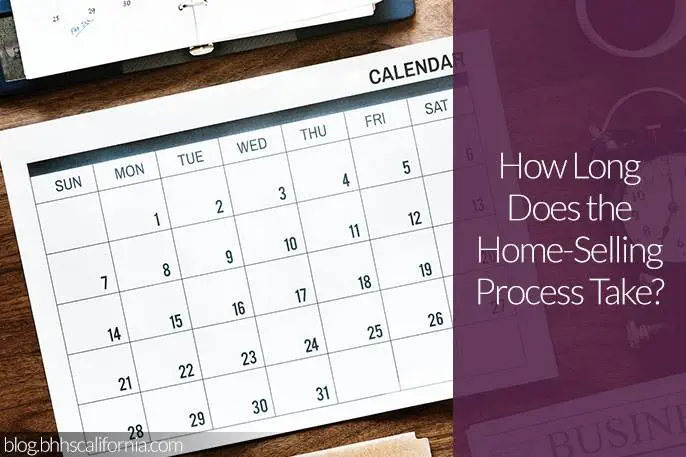 How long does it take to sell a home? It's one of the most common questions in real estate. But there's no common answer. With so many variables affecting each listing, the best person to ask is a real estate professional who specializes in the neighborhood. That agent will have a good idea of the history of home sales for the past month, year, or even previous decades.
It's not impossible to come up with an estimate of the length of time your residence could be on the market though. By following some of the tips we've rounded up, you could be sailing through listing, escrow, and closing in a timeframe that suits your real estate goals.
Is my home priced correctly?
An overpriced home usually takes longer to sell, and it might eventually sell for far less than market value. In a high-demand seller's market, a well-priced home could sell within three to 10 days. In a buyer's market, it could take a month or more to sell.
What are the average days a home spends on the market?
Average days on market is a number almost every real estate agent knows by heart. To determine that number yourself, determine the day each home in any given month goes on the market, and count the days to its pending sale. Add those days together and divide by the number of homes. That will give you the average days on market.
Alternatively, you can use realtor.com's interactive map to find out the median days on the market in your area, the number of homes, and other local data that can help you determine how long it will take to sell your home so you can plan accordingly.
What can make a home sell more quickly?
Sometimes, there's no logical reason for the length of time it takes to sell a house. It could be dumb luck, as in "right place, right time." Or, your home could come on the market on the same day a specific buyer is looking to buy one like yours.
More likely, how long it takes to sell a house depends on three factors:
Price: A good strategy some agents use to attract multiple offers, which tend to push the price higher, is to price the house a little bit under market value. Price range can make a difference as well. Lower price ranges often sell faster than higher ranges, just because there are more buyers who can afford lower-priced homes. In a seller's market, a common strategy is to price a home slightly under the comparable sales, again to draw in multiple offers. More than one offer tends to drive up the price. In addition, competition generally breeds desire, and passionate, determined buyers will often pay a lot more than the asking price.
Location: If the home is in a highly desirable neighborhood near great schools and shopping, it will be in high demand. If it's in a less-desirable community, maybe near a landfill, it might never sell. It's worth asking your agent for recent comparable sale prices, which should be easy to obtain.
Condition: Homes that show pride of ownership will sell much faster than homes that need repairs or are cluttered-up. Buyers like to imagine how they'll live in a house, which they can't do if the home looks like it belongs to you or is a real mess. Sometimes just moving out some of the furniture makes a big difference. Large pieces can overwhelm a space and make the area seem smaller. Alternatively, empty rooms tend to look smaller, which is why staged homes tend to show better.
It can be a wild ride
The median time a home is on the market has varied wildly the past few years. According to the National Association of REALTORS® (NAR), the median home in the U.S. spent 65 days on the market, from the time it's listed until the owner hands over the keys. In May 2017, properties sold nationally were typically on the market for just 27 days. Why?
"The inventory shortage, the growing economy, and job creation have increased the interest in homebuying," said Lawrence Yun, chief economist for NAR. "There is just not enough inventory; people need to fight over the few homes available on the market."
To be successful, Yun said, house hunters need to be prepared with a loan pre-approval letter, know their budget and home must-haves, and be ready to dedicate their weekends and evening to touring homes–and battling crowds. Your agent will be able to tell you who is most likely qualified to make a real offer, and who isn't.
If your home stands out with great curb appeal and sparkles inside and out, you're more likely to sell it faster than you expected. But if you don't take the time to make it show well, don't be surprised if your for-sale sign stays firmly planted in the ground.
Are you ready to sell your home? Connect with one of our listing agents today. 
Like what you see here? Sign up for more! Our free e-newsletter informs you of listings in your community, insider real estate tips, the latest in home trends, and more.