Author: Lesley Balla
Photography: Dylan + Jeni
Information provided by: Angeleno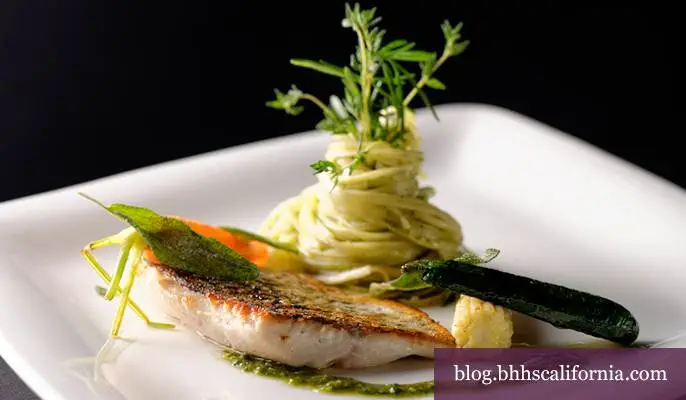 With a place like Redbird, Neal and Amy Knoll Fraser's new restaurant in the old cathedral rectory at downtown's historic Vibiana, the message behind the old adage "Good things come to those who wait" is more meaningful than ever. For one, Redbird is an absolute stunner, with a design so sleek and naturally fitting to the space, it couldn't possibly have happened overnight. Second, although the Frasers never really left the L.A. dining scene, it is a return of sorts for the famous culinary couple. Redbird feels like one big, grand gesture bringing it all together.
For years, the Frasers talked about this restaurant. First they were rumored to be planning a relocation of Grace, their beloved fine-dining Beverly Boulevard spot that closed in 2010. They took over catering for the Vibiana events space in 2012, but the timing wasn't right for their own restaurant.
The two continued to run their popular bistro, BLD, and other projects came about (Fraser's gourmet hot dog stand, Fritzi Dog, for one), while the pieces for Redbird started falling into place. However, it wasn't until they partnered with acclaimed restaurateur Bill Chait in 2010 that they were able to really soar.

This is not another iteration of Grace, but it is a continuation of what the Frasers started there. Having been part of the local dining scene since his 20s—working with Thomas Keller at Checkers before The French Laundry came to be—Neal is one of the city's most acclaimed chefs, known for sourcing great local and seasonal ingredients in his take on modern American fare. His wife handles the design, making sure the rooms flow with grace and ease.
At Redbird, my favorite area is the great marble bar because it wraps around both rooms. The lounge is filled with low-slung, mismatched midcentury furniture and hand-painted Spanish baroque beams overhead. It's just the place to sit for a cocktail like the Turf Club, a wonderful gin martini with French vermouth, maraschino, absinthe and orange bitters; and a few snacks, such as blistered shishito peppers with crunchy quinoa and a spicy bowl of posole with a meltingly good chunk of heritage pork belly. There's even a mini chicken potpie with a buttery, flaky crust.
The dining room is actually a courtyard covered by a retractable roof that stays open unless it's raining or too windy, which is a very good thing. It's absolutely gorgeous—timeless and elegant without being at all stuffy. Custom wood-topped tables run through the center of the room, a few flank the sides, and more are placed along the windows. The chairs, low and wide, are supremely comfortable; it's amazing how many people get that wrong these days. Big potted-fruit trees fill the space, while the iconic Vibiana rises around it.
It isn't every day that I want to order everything on a menu, but here, it all sounds fantastic. And it all tastes great, too, whether picked by ourselves or selected by our server—who was one of the best I've encountered in town and happened to be the Frasers' daughter, Grace. (Yes, that Grace.)
Sharing is ideal because there's so much to try. Pretty slices of roasted squash with spicy greens, hazelnuts and goat's milk feta, or tai snapper crudo, kissed with yuzu kosho and Meyer lemon, are two great starting points. The Dungeness crab soup is fragrant with Thai spices, and handmade pastas are a highlight, whether the cappelletti, filled with butternut squash in a light broth, or the gnocchi sardi, a non-potato dumpling coated with an earthy nettle pesto and chunks of lobster.
Neal has always had a way with proteins. Rabbit, for one, is a specialty since his Grace days. The rabbitchetta is reminiscent of an early dish, the saddle wrapped in bacon and roasted, served over a bed of creamy polenta with pea tendrils. Someone christened the veal chop "Veal Fraser" (the chef swears he didn't name it himself), and it stuck. The 24-ounce chop comes to the table sliced and smothered in chunks of braised veal cheeks and Burgundy snails, and wow, does it work. You'll want to pair it with pommes aligot, ultracreamy potatoes whipped with Point Reyes Toma cheese. Ending the meal with some creme catalan, plated like a garden with torn pieces of tarragon-scented sponge cake, fresh citrus and insanely refreshing blood orange sorbet, is just about perfect.
Giving the Frasers the time they needed to fully flesh out Redbird paid off. From the decor to the dessert, they've presented exactly what they wanted to do—blending the old and new, comfort and elegance, and, of course, delicious cuisine. It was well worth the wait.
Redbird
114 E. Second St., Los Angeles, 213.626.1507
Hours: Tuesday-Sunday, 5 p.m.-close
Appetizers, $10-$16; small plates, $15-$22; entrees, $26-$42; shared plates, $84-$111; desserts, $12
Getting There
The entrance is on Second Street in the rectory building adjacent to the cathedral. Walk through the gorgeous archways to the lounge.
Lingering Lunch
With a courtyard dining room, the place screams "daytime dining," which starts later this month.
What's in a Name
Redbird sort of stands for cardinal, as in the priests that used to live in the rectory. That's probably the most religious reference you'll see in the place.
Like what you see here? Sign up for more! Our free e-newsletter informs you of listings in your community, insider real estate tips, the latest in home trends, and more.