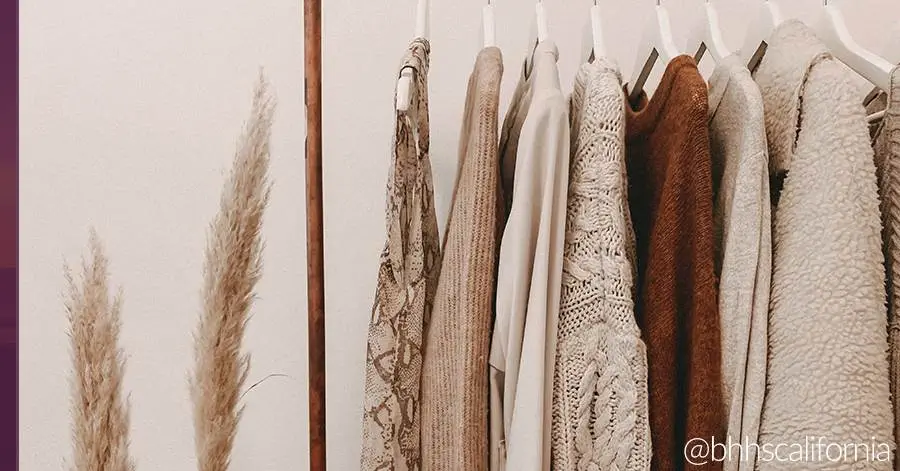 The idea of having to organize your wardrobe may sound daunting, even more so when you've decided it's time to clean it out and potentially part with some items. The process could be a lot easier  though, if you know exactly how to tackle it. 
And, if you decide to take the eco-friendly route, it is a fairly simple adjustment and doesn't require too much extra thought or effort. Plus, it could save you hundreds of dollars every year, on top of helping the environment. Pretty cool, if you ask us.
Below, we're sharing tips to go green while still being updating your wardrobe every season.
Worth keeping?
The very first step, besides staring blankly into your closet, is to look at every single item you own and ask yourself if you'll ever use it again, or if it's worth keeping for another season. Often, you might discover certain pieces that you forgot you owned or you may have to try to convince yourself that you will wear them again, and in those cases it may be best to relieve your closet of those pieces. Using this method to determine keep or not keep will have you off to a great start.
Wardrobe staples
The concept of a wardrobe staple is ideal because you're building your whole wardrobe around streamlined selections of items that make day-to-day dressing infinitely easier. Another tip to remember is to always stick to neutrals, making it even easier to mix and match. With such a selection, you have the chance to style up as much as you want, or, remain casual. Remember that trends come and go, but these staple essentials last a lifetime.
Some basics that everyone should include in their closet are:
A plain white tee
Comfortable pair of jeans (preferably a darker wash, as they do not stain as easily!)
Black trousers
A sophisticated blazer
Denim jacket
Knit sweater
A striped shirt
A white button-down
Ankle boots
Slip-on sneakers
And, for the ladies, don't forget your little black dress, ballet flats, and sleek pumps, both high and low heeled.
Another great suggestion that will have you saving money and the environment is to follow the "30 wears test." This initiative started thanks to Eco Age, a company which certifies for their sustainability, began the #30Wears campaign to help encourage everyone to only purchase an item only if you see yourself wearing it a minimum of 30 times. We know it might take a while to adjust to, but trust us, you'll be surprised at how many times you might say no to.
Go thrifting
Second-hand and vintage clothing can sometimes get a bad reputation, but not only does it save money, it is also less wasteful and give you so much room to be creative with your outfits. Thrift stores are also great for those looking to invest in a lot of basics such as tops, bottoms, and even a unique jacket or two. Think about it this way: Americans alone throw away about 10.5 million tons of clothing every single year. Isn't that crazy? When you shop at thrift stores, every garment purchased second-hand means one less new one produced. This is very important because producing synthetic fibers like polyester requires a lot of energy and oil such as petroleum, of which the byproducts include toxic gases and chemicals. You'll be keeping plastic out of landfills and help reduce pollution.
Thrifting tips and suggestions provided by unwrinkling.com
Repair you own clothing
When something rips or breaks, that doesn't automatically mean that you have to get rid of it. Nowadays, you can find out how to do anything via the internet (YouTube especially), but if this is not your forte, then leave it to a professional. Don't use it as an excuse to get rid of something!
Quality over quantity
This goes hand-in-hand with being able to identify staple pieces that are must-haves in your wardrobe. It's pretty easy, and all about planning. Buying higher quality items, in this case, more sustainable pieces, is likely to cost you more than buying a cheap high-street item that doesn't last long. But buying 10-20 (perhaps more) high-quality items a year, rather than more than 50 at cheaper prices, will dramatically reduce your carbon footprint. Investing in high quality items will help you buy less items per year and won't cost much more than if you were to buy many low-quality items.
Donate unused pieces
Donating unwanted clothes to a good cause, rather than have them hanging gathering dust in your wardrobe, will help others to be more sustainable. Those people will invest in your old pieces instead of buying something new. A really good policy to follow is the one-in, one-out policy, which means that every time you buy something, you'll have to donate something else in your wardrobe.
Store off-season clothing
After going through your closet and deciding what it is you're going to keep, you can also make plenty of space in your wardrobe by storing off-season items in bins in another closet, your garage, or anywhere you might have some extra space for storage. As seasons change, just follow the same process, keep track of what is coming out of the boxes and (possibly) into your wardrobe, and decide whether or not you need them or feel like it's time to donate.
Receive plenty more tips on how to go green and to make your home a happier place by signing up for our newsletter here.
Like what you see here? Sign up for more! Our free e-newsletter informs you of listings in your community, insider real estate tips, the latest in home trends, and more.