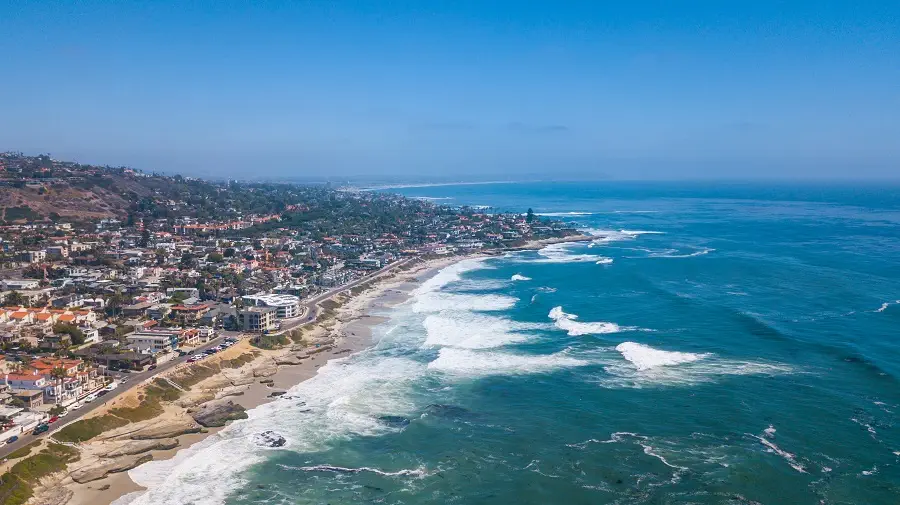 Santa Barbara vs. San Diego
There's no wrong place to live when it comes to California. In fact, there are so many unique areas within this region that it can be difficult to decide on a single location. Two of the most popular areas in California are Santa Barbara and San Diego. While both offer the classic California charm that all residents admire, they each have personal identities that are distinctly their own.
Whether you are moving to California from out of state or you are just relocating from another area, both these areas are popular choices if you're looking to take full advantage of the laidback California lifestyle. When comparing Santa Barbara vs San Diego, it's important to look at your personal preferences for a city and see which one fits best for you. Both cities offer incredible living conditions, beautiful landscapes for sightseeing, and a top-notch food scene.
To help you choose your next Southern California home, we've created this helpful guide that compares Santa Barbara versus San Diego. We're breaking down some of the key things to consider about each of these beautiful beach cities as you decide which option is truly the best for you.
Santa Barbara
With a population of just over 420,000, Santa Barbara is a much smaller county than San Diego, Orange, or Los Angeles. That being said, there is a lot to love about the beautiful county that offers gorgeous views of the Pacific Ocean and Santa Ynez mountains. Booming with history and breathtaking landscapes, Santa Barabara is a unique location that steals the hearts of many who visit. Between its beautiful wine country, world-renowned restaurants, and quaint charm, Santa Barbara makes for the perfect destination for both visitors and locals alike. One of the largest drivers for living in Santa Barbara is UC Santa Barbara which is located in Goleta.
Known for moving a little slower and having a taste for luxury, Santa Barbara offers a unique and eclectic downtown area as well as the coveted community of Montecito. With just eight cities within Santa Barbara county, this area offers a much smaller feel than other Southern California alternatives while still providing a number of activities for residents to enjoy. If you are looking to buy a house in California with a beachside community, beautiful views of the coast and the Santa Ynez Valley, living in Santa Barbara County may be the perfect community for you.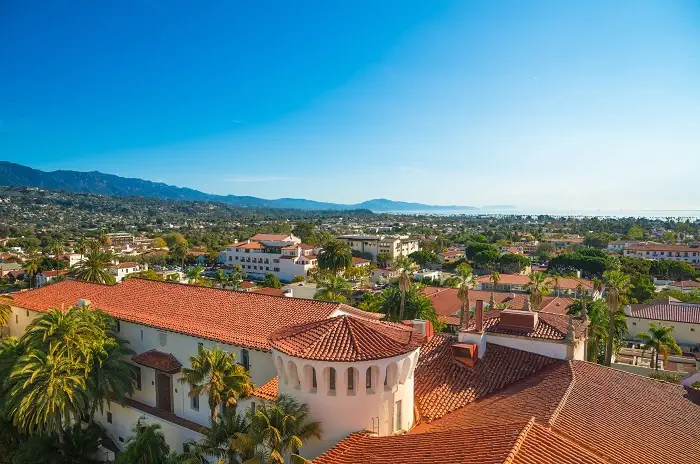 A Few Popular Neighborhoods in Santa Barbara
Downtown
State Street runs through downtown and is a popular destination for tourists and residents alike. Complete with a number of shops, restaurants, and bars, downtown offers a lively scene that still matches the laid back atmosphere Santa Barbara is known for. Residents young and old can still enjoy being close to the action while also living in charming casitas.
The Mesa
As it sounds, The Mesa neighborhood is located on a mesa that sits above the city, giving residents gorgeous views of both the Pacific and the Santa Ynez mountains. Complete with a number of playgrounds and parks, this popular destination is great for young families as well as college students who enjoy a quieter neighborhood.
Hope Ranch
A rather well-known neighborhood, a number of celebrities call Hope Ranch home. A rather exclusive and private neighborhood, the median home value is $2.61 million. Complete with a private beach, gorgeous homes, and their own governing police force, Hope Ranch offers the wealthy ultimate privacy and luxury while living in the beautiful landscape of Santa Barbara.
Neighboring Areas
Santa Barbara is about 95 miles north of Los Angeles and the same distance to San Luis Obispo. Residents can take the 101 north or south to visit either and will arrive within about one and a half to two hours.
San Diego
Bordering both Orange County and the Mexico-U.S. border, San Diego county is much larger than Santa Barbara. San Diego is one of the best places to live in Southern California due to its pristine location on the coast and it's arid, sub-tropical climate. With over 18 cities total, the three million residents of San Diego have a wide selection of locations to choose from right along the Pacific Ocean. Similar to Santa Barbara, it is also known for its gorgeous beaches that stretch over 70 miles. Dotting the coast is a number of beach towns ranging from Ocean Beach down south to Oceanside, loved by families, college students, and locals.
San Diego County is also home to a number of navy and military families, as the U.S. Navy and U.S. Marines have a big presence throughout this region of California. Additionally, This city is also home to a number of leading biotech companies as well as technology companies. With a number of public universities, San Diego County attracts many young working professionals. San Diego also offers world-famous attractions like Sea World, the San Diego Zoo, Safari Park, and Balboa Park, making it an excellent location for young families as well.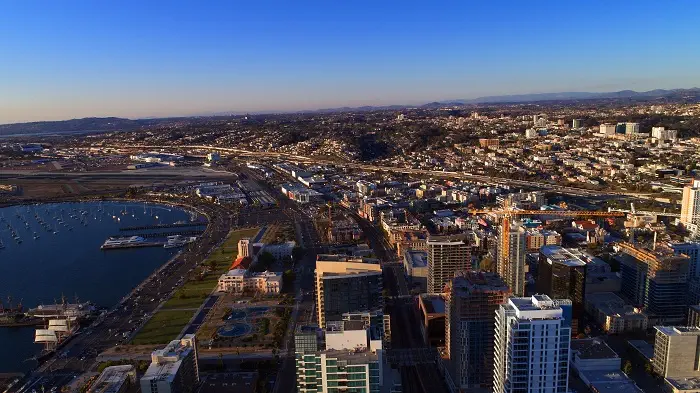 A Few Popular Neighborhoods in San Diego
Little Italy
Located in Downtown San Diego, Little Italy is one of the best neighborhoods in San Diego for people of all ages to live in. Little Italy is a cultural hub of historical Italian staples and foodie spots that draw a mix of young families and working professionals. Constantly evolving, Little Italy offers residents an urban yet coastal feel that is vibrant and modern. Whether you are looking for a quaint coffee shop or an authentic slice of Italian pizza, you can find it all right in the heart of Little Italy.
Mission Valley
Centrally located, Mission Valley offers families a good mix of townhouses, single-family homes, shops, restaurants, and bars. Located near the SDCCU stadium as well as a number of malls, Mission Valley is the perfect hub for families looking for ultimate convenience.
Rancho Santa Fe
A coveted neighborhood, Rancho Santa Fe is a spacious neighborhood that is both rural yet exclusive. Known as one the best family-friendly neighborhoods in San Diego, the homes sit on large plots of land and sprawling golf courses, providing residents with ample tranquility and privacy. If you are looking for a more relaxed community that is both safe and welcoming, Rancho Santa Fe is an excellent area to check out for your future home.
Neighboring Areas
Bordering Orange County and Mexico, San Diego is in close proximity to a number of beautiful destinations. It's good to remember that San Diego is a much larger county, so the time it takes to travel from point A to point B will likely be longer than in Santa Barbara.
Choosing Between Santa Barbara and San Diego
When making the choice between Santa Barbara and San Diego, it's key to make a list of your top priorities and see which location makes the most sense for you. There is no one-size-fits-all approach when it comes to the perfect neighborhood or location to live in. Everyone has unique tastes and preferences, which should be taken into consideration before purchasing a home. While it can seem like all California counties are the same, these two distinct options each offer a unique experience and lifestyle.
Both offer amazing schools and a great environment to raise a family in, however, San Diego does have a larger number of job opportunities available, which is a practical element to keep in mind. On the flip side of that, Santa Barbara does offer a more laid–back atmosphere with natural landscapes, serving as the perfect location for nature enthusiasts and retired individuals.
Have you picked the perfect location for your future home? Our San Diego and Santa Barbara Berkshire Hathaway HomeServices California offices are available to help current and prospective residents decide which is truly the right fit for you. For more information, please call our local team of real estate experts today.
Like what you see here? Sign up for more! Our free e-newsletter informs you of listings in your community, insider real estate tips, the latest in home trends, and more.